A well-known scientist and autism advocate challenges middle-graders to put down their phones and make something.  Ages 10-15
Calling all Minds: How o Think and Create Like an Inventor by Temple Grandin.  Penguin, 2018, 230 pages
Reading Level: Middle grades, ages 10-12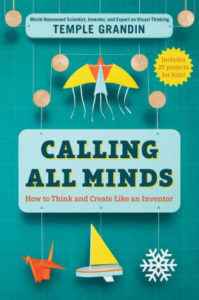 Recommended for: ages 10-15
Temple Grandin was diagnosed with autism in the 1950s, when little was known about that condition.  "Autism" had only recently acquired a name.  Those within its narrow definition were often very bright, but socially awkward and easily over-stimulated.  Grandin was fortunate in her parents and teachers who encouraged her visually oriented style of learning ("I think in pictures)" and understood she had to approach things in her own way.  Her procedures and inventions for managing livestock brought her to public attention, but by now she's equally well-known for writing and speaking about autism.  Her call to all minds isn't just to "special" kids but to all kids: Put down the phone and pick up a pair of scissors!  Or a saw and a hammer, or a paintbrush.  Make something.
Five chapters address five broad areas of creativity.  Paper, wood, levers and pulleys, things that fly and optical illusions.  Each chapters includes sidebars profiling inventors of all ages, and at least one hands-on project with drawings and directions.  She adds personal recollections as well, like practicing the principle of leverage by hurling crabapples into the neighbor's yard with a stick: "By gripping the farthest end of the stick, your apple will go twice as far then it you threw the apple with your hand alone.  This was the principle of leverage at work.  I'm trying to make this sound scientific, but let's face it, we were just having fun."
Simple, unscripted, outdoor activities with a friend are the best kind of fun.  Summer is a perfect time to make stuff—and just maybe come up with an invention.
Cautions: None
Overall rating: 4 (out of 5)
Worldview/moral value: 3.5
Artistic value: 4
More than 75 books for children and teens, all about islands, oceans, and more. Bonus: get a free hand-drawn reading tracker!
Reading Ahead for You
Reviews and Resources Weekly in Your Inbox