Impossible Inventions, by the same team who brought you Maps, is quirky, informative, and possibly inspiring.  Ages 8-12
Impossible Inventions: Ideas that Shouldn't Work by Matgorzata Mycielska and Aleksandra and Daniel Mizielinski.  Gecko Press, 2017, 119 pages
Reading Level: Middle Grades, ages 8-10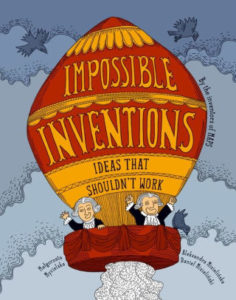 Recommended for: ages 8-12
"It begins with a dream or a need—a brilliant idea pops into the mind of a would be inventor, or a person wants something that doesn't yet exist, and they work hard to bring it into being."  What about a passenger dragon?  Or a bubble messenger?  Why doesn't someone invent a flying bird suit or aircycle?  Someone has!  In the first century, someone even invented temple doors that opened automatically with no human hand involved. Not that all these bright ideas actually worked, or were especially useful when they did, but we have to give the inventors credit for imagination.
The same creative team who gave us Maps now presents a whirlwind tour of little-known inventions from 600 B.C. up to today.  The whimsical illustrations and simple explanations of how the contraptions worked (or were supposed to work) will provide hours of entertainment for the technologically-minded in your household.  They may even inspire a homemade invention or two.  (Like an improvement on the flatulence deodorizer on page 6.  Don't say I didn't warn you!)
Cautions: None. (Well, except for the flatulence deodorizer, which I already warned you about)
Overall rating: 4 (out of 5)
Worldview/moral value: 3.5
Artistic value: 4.5
Talk amongst yourselves...