In the March 31 issue of World Magazine, reporter Emily Belz wrote at length about the slow incursion of books supporting transgenderism into school libraries and awards list ("Battle over Books").  The centerpiece of the article is Oregon's Battle of the Books competition for 2018-19.  Many states and local districts sponsor these reading events, where participating students form teams that read the books on a pre-selected list, then meet in a game-show format to answer questions about them.  The books are chosen by school librarians and reading specialists.
This year the Oregon list for 3rd-4th graders included George, a middle-grade novel by Alex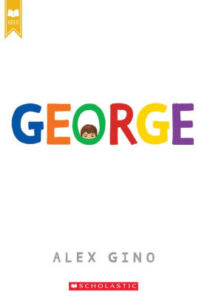 Gino. The novel is marketed to ages 8-12.  That includes most third and fourth-graders, but as Emily Belz quotes one Oregon librarian in her article, "Some of these children don't even know the facts of life yet." *
If they read George, they'll learn some facts that may not even be legitimate facts. The protagonist is a middle-schooler who longs to play a leading part in a class production of Charlotte's Web.  Problem is: George wants to play Charlotte, whom everyone understands to be female.  George understands himself to be female, not male, but how to convince his world?
Throughout the novel, George learns about such wonders as hormone blockers and gender-reassignment surgery, both presented as tools of liberation (even though the science on that is far from settled).  Finally he gathers the courage to confide in a female friend, who accepts his self-identity.  From there George goes on to convince the parents, try out for the role of Charlotte and not only win it (of course), but bring down the house with a stellar performance.  This girl could have a future!
I read George two years ago and it's no great shakes as literature: The protagonist is a sympathetic character, but the plotline is thin and the writing style barely above average.  What entitles the book to award lists and Battle-of-the-Book status is its position on the cutting edge of transgender acceptance.  But reading it made me aware of a curious irony: both George, and Gratefully Grayson, which has a similar theme and plot structure, rely on stereotypical "girlyness" to identify their protagonists.
To signal his opposite-sex leanings, George is obsessed with clothes, accessories, and makeup.  Imagine your typical middle-grade girl protagonist: she cares not for such fripperies!  She wants to be a scientist or doctor, or president or pirate queen.  She's in direct contrast to the mean girls or the silly girls, who are obsessed with clothes, accessories, and makeup.  But George is a hero for embracing those very trivialities.  What's being sold here?  That girls who reject female stereotypes are authentic, but transgender "girls" who embrace those very stereotypes are equally authentic.  To say this is confusing is an understatement.
To be clear, there's nothing wrong, or inauthentic, about female scientists and presidents (I have a problem with pirate queens, though).  Though I believe certain broad characteristics are common to females, femininity can encompass a wide range of roles and personalities, as can masculinity. But the differences go deep: a female executive won't discharge her duties in the same way a man would in the same position.
Though the author of George claims it "won't make anyone transgender," it might well convince a boy that his problems (such as no father at home, difficulty communicating his feelings, conflicting messages about masculinity, poor academic performance, and on and on) may boil down to his being forced to identify as the "wrong" gender.  That may explain the sudden surge in school-age children who experience gender confusion, or don't feel fully confident identifying themselves as boys or girls.
The best research indicates that most gender dysphoria resolves by late adolescence.  At least, that's true so far.  The continuing drumbeat of transgender acceptance, enhanced by books like George, is not likely to lead to a golden age of acceptance for all, but an age of despair for everyone who made a drastic choice that they now regret.
______________________________________________
*Since mid-April at least two Oregon school districts have pulled out of the statewide competition, deeming the content of George to be inappropriate at the 3rd-5th grade level.
Support our writers and help keep Redeemed Reader ad-free.
Reading Ahead for You
Reviews and Resources Weekly in Your Inbox