A young girl in the middle of the Indian partition of 1947 shares poignant thoughts and fears in The Night Diary. Ages 12-15
The Night Diaries by Veera Hiranandani.  Dial, 2018, 264 pages.
Reading Level: Middle Grades, ages 10-12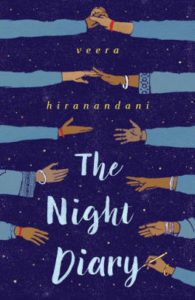 Recommended for: ages 12-15
 All births are not happy.  Like me and Amil.  Ours wasn't. We lived and [our mother] died.  It must have been a terrible day for Papa when we were born . . .  It's like India—a new country is born, but my home is dying.
For her birthday, Nisha received a journal from the family housekeeper (and her best friend), Kazi.  Her twin brother Amil got five charcoal pencils and drawing paper.  Both are perfect gifts, but Nisha's especially: she'll use her journal to write to her Mama, whom she's never known.  And there's a lot to write about.  It's been decided, by the men in charge, that now India is free from 200 years of British rule, part of the country must be set aside as a Muslim nation, to be called Pakistan.  All Muslims will dwell in Pakistan, all Hindus in India.  Since the twins' father and grandmother are Hindus, they must become part of the vast double migration pouring across the new border.
Historically, the 1947 partition was worse than a mess; it was a slaughter.  As the author says in her afterward, as many as a million people—formerly neighbors and even friends, were killed in the countless outbreaks of pent-up violence when the British left India.  Nisha's story reflects this without resorting to gore: a grueling trek across the desert, a brush with murder, a rush to get on the train that will take them to safety at last.  The family endures hardships that strain every nerve but also affirm their love and commitment to each other.  No one feels stereotyped, least of all our narrator Nisha, whose voice is fresh and authentic.  It's a difficult but worthwhile read.
Cautions: Very intense situations; a few references to Hindu gods.
Overall rating: 4.5 (out of 5)
Worldview/moral value: 4
Artistic value: 5
Discussion questions:
Do a little research on the history of the Indian Partition.  What factors do you think contributed to the outbreak of widespread violence?
Can you identify with any part of Nisha's personality?  How about Amil's?  When did you want to tell them, "No! Don't do that!"?
What did you like about their father?
Try making chapatti, samosa, dal or kheer.  Or visit an Indian restaurant and try those things!
Would you say this book has a happy ending?
More than 75 books for children and teens, all about islands, oceans, and more. Bonus: get a free hand-drawn reading tracker!
Reading Ahead for You
Reviews and Resources Weekly in Your Inbox