This often-overlooked classic by the beloved fantasy writer introduces six children with lively imaginations and not much prudence.  Ages 10-14
The Story of the Treasure Seekers by E. Nesbit.  Puffin Books, 1986 (originally published 1899), 208 pages.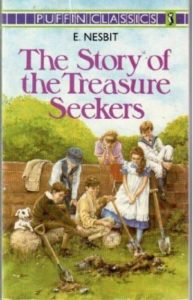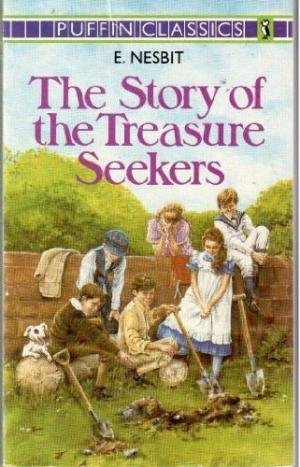 Reading Level: Middle Grades, ages 10-12
Recommended for: ages 8-14 or 6-12 as a read-aloud
There are some things I must tell you before I begin to tell about the treasure-seeking, because I have read books myself, and I know how beastly it is when a story begins, "'Alas!' said Hildegarde with a deep sigh, 'we must look our last on this ancestral home'"—and then some one else says something—and you don't know for pages and pages where the home is, or who Hildegarde is, or anything about it.  Our ancestral home is in the Lewisham Road.
The narrator for this ancestral family goes on to list the six Bastable children: Dora the eldest (about 13), Oswald who won the Latin prize at his school, Dicky who is good with numbers, Alice and Noel the twins, and Horace Octavius, or H.O.  Little H.O. shares his initials with Hornby's Oats, which is unfortunate because of the ubiquitous ads painted on buildings that read Eat H.O. (it was a real thing; here's a picture to prove it).  Their mother has died and more recently their father's business partner absconded with the company profits.  He's tried to screen the children from his misfortunes, but they can guess when the servants, all but one, are dismissed, and official-looking envelops are delivered at the door, and Father said the kids could use a holiday from school.  They all know it was because he couldn't afford to send them.  So Oswald proposes that they should each set forth their ideas for seeking treasure.  All of the ideas are impractical and some not quite legal, but they all get a try.
Edith Nesbit drew on her own happy childhood for these stories, such as the time her brother buried her up to her neck in the garden.  A nonconformist who threw away her corsets and smoked cigarettes, she married a man whose business partner absconded after he (the husband) contracted smallpox. She turned to writing as a way to support the family, and in time made a successful go of it.  (She appears in The Treasure Seekers as Miss Leslie, a jaunty travel companion to Oswald and Noel on one of their money-raising ventures).  Her husband Hubert Bland is described in the introduction to my Puffin Classics edition as an effective journalist and youth advocate, "but as a person there was something theatrical and unreal about him."  I find that a workable description of Oswald, who narrates these stories: cheerfully chauvinistic, irrepressibly romantic, impulsive, imaginative, bigoted, and good-hearted.
The spirit of our age doesn't allow those adjectives to go together.  But this was a different age entirely, when Britannia ruled the waves, and much of the dry ground, with an assumption of superiority that was mostly well-intentioned. E. Nesbit herself, a free spirit and a socialist, shared some of these assumptions, but her breezy, writing style and contagious high spirits may make us a little nostalgic for those days when Englishmen could be proud of being English. The Bastable children would not be anything else.  They have immersed themselves in native legends of courage and sacrifice; and all of their plans have a whiff of the "theatrical and unreal."  But most of them, due to sympathetic adults, bear some fruit.  The final scheme isn't even a scheme; it's an act of charity, but it results in a radical change of fortunes that's barely believable.
The Treasure Seekers was followed by The Would-Be-Goods and The New Treasure Seekers, which have their moments but aren't quite as funny.  As to that, some cultural references and slang terms may need to be explained, and the upcoming generation may not be as enchanted by the Bastables as they are by Nesbit's fantasy novels like Five Children and It or The Last of the Dragons.  But as a picture of the world's most optimistic age (before the Great War blew optimism to bits) it's worth a visit.  C. S. Lewis was a fan, and may have incorporated some of the Bastables' imagination, initiative, and leadership ability into the Pevensies and their friends.
One caution: in the very last chapter the children's uncle, whom they've befriended, drops what we've come to call the N-word.   Brits of the colonial era applied it to Indians (of India; native Americans were called "red Indians," which is also casually racist).  Young readers should be warned, and read-alouders prepared.
Books by E. Nesbit reviewed on RR: The House of Arden
Cautions: Worldview (contemporary racism; see above paragraph)
Overall rating: 4 (out of 5)
Worldview/moral value: 3.5
Artistic value: 4.5
Reading Ahead for You
Reviews and Resources Weekly in Your Inbox