This biography by Madeleine L'Engle's granddaughters draws on the author's scrapbooks, journals, and memories to recount her life. Ages 12-up
Becoming Madeleine by Charlotte Jones Vioklis and Lena Roy.  Farrar Strauss Giroux, 2018, 159 pages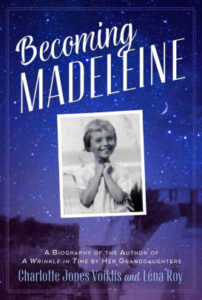 Reading Level: Middle Grades, ages 10-12
Recommended for: ages 12-up
Being the only child of two talented, passionate people can lead to some rough passages, and the roughest of Madeleine Camp's early years came when she was only 11.  The family was living in Switzerland while her father tried to re-start his writing career.  One day they all went for a drive, but instead of Lake Geneva, as Madeleine supposed, they ended up at Chatelard, a boarding school for girls. There her parents left her, with no warning and little explanation. But the three years at Chatelard deepened her understanding of the challenges of life, and hours of solitary reading and writing shaped her desire to become a writer.  Much later, in college, she was bit by the theater bug and considered a career as a playwright.  Life intervened (as it usually does) in the form of marriage and children and career changes.  But she kept writing, mining her life experience for novels that were well-reviewed if little noticed.  It was during a family camping trip that Madeleine received her inspiration for the novel that would become A Wrinkle in Time.
In the opening pages of Becoming Madeleine, the authors recall themselves as children, asking their "Gran" about her childhood.  But poring over her scrapbooks and journals after her death fleshed out their understanding of their grandmother.  Copious quotations help the reader see a young girl, and later young woman, in process of "becoming." The road wasn't always smooth, and this biography reveals flaws as well as strengths.  Madeleine could be surprisingly insensitive to the feelings of others (as seen in a couple of juvenile pranks).  Even as a mature woman, she never understood how her extended family, including her own children, could be upset when she included personal recollection in her early novels.  But positive outweigh negatives in these pages, particularly a joy in her life's work.
One disappointment: the authors say little about their grandmother's religious faith, but leave the impression she was something of a pluralist about spiritual things.  Near the end, however, they include an oft-quoted passage from her journal about her best-known work: "[I]f I've ever written a book that says what I feel about God and the universe, this is it.  This is my psalm of praise to life, my stand for life against death."
Cautions: Language (One instance of profanity quoted from L'Engle's journal)
Overall Rating: 3.75 (out of 5)
Worldview/moral value: 4
Artistic value: 3.5
Talk amongst yourselves...