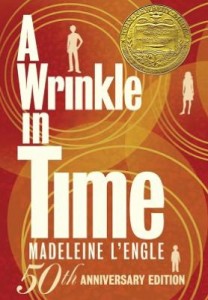 A Wrinkle in Time was published 55 years ago and gets the full movie-treatment this month.  In this repost from 2012 Janie wonders how well it holds up.  
Madeline L'Engle was a little-known novelist and mother of three when she and her actor husband, Hugh Franklin, decided to move from rural Connecticut back to New York City so he could re-start his acting career.  Before the move, in the spring of 1959, the family took a ten-week, cross-country camping trip, during which she received the germ of an idea for a novel: "suddenly into my mind came the names, Mrs Whatsitt.  Mrs Who.  Mrs Which."  Completed in 1960, the novel was rejected by at least 26 publishers because it was too different—and because, as Ms. L'Engle reflected later, "it deals overtly with the problem of evil, and it was too difficult for children . . ."  Finally, a guest at a tea party happened to know one of the founding partners of Farrar, Straus and Giroux, and arranged a meeting.  John Farrar liked the manuscript, which was published in January 1962 as A Wrinkle In Time.
The novel made Madeline L'Engle's reputation, has over 10 million copies in print in the USA alone, has won dozens of prestigious awards including the Newbery Medal, and has inspired to at least two generations of children's writers to create their own mind-bending, mold-breaking novels.  It blends science fiction and fantasy, religion and philosophy, and doesn't talk down to readers.  Whether it could get published today is doubtful, but that isn't stopping publishers, bloggers, and libraries from making a big deal of the 50th anniversary.  A new author website is continually updated with event news; Tor Press (known for science fiction) has begun a "Madeline L'Engle re-read" of the author's most significant works, a Facebook page is collecting fans and wall posts; hardcover, paperback, and e-version anniversary editions are rolling off the presses, plus a graphic novel due in April.  The signature event, on February 11 at Symphony Space in NYC, will feature publishers and well-known children's authors and will be live-streamed to booksellers and available for download in March.
In a way it's easy to see what the fuss is about.  A Wrinkle in Time is a one-of-a-kind publishing phenomenon that's hard to classify.   To deal briefly with the plot: Meg Murry is the oldest child of two brilliant physicists who were working on some of the implications of quantum physics when Mr. Murry disappeared.  When Meg's little brother Charles Wallace befriends two mysterious old women, Mrs Whatsit and Mrs Who, the children quickly learn that the ladies are more than they seem.  A third presence, Mrs Which, confirms the impression.  In fact, the three are angelic beings who use "the tesseract," a  manipulation of time and space, to transport Meg, Charles Wallace, and their new friend Calvin O'Keefe to other worlds outside our solar system.  On the planet of Camazotz, a rigid uniform society ruled by a single brain called IT, they find Mr. Murry and rescue him, but at the loss of Charles Wallace, who succumbs to IT's powers of mind control.  Meg must return and pry her brother free, using a weapon whose power she did not suspect.
The shape of the story is classic good vs. evil, repeated many times before and since (Star Wars, Harry Potter, The Dark is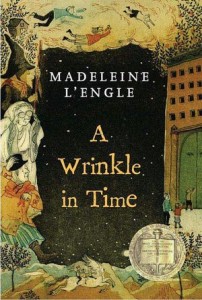 Rising, etc.).  The first third is brilliant, setting up character, tension and situation almost simultaneously, with great economy and movement.  I like the way goodness is rooted in the commonplace: "The furnace purred like a great, sleepy animal; the lights glowed with steady radiance; outside, in the dark, the wind still battered against the house, but the angry power that had frightened Meg while she was alone in the attic was subdued by the familiar comfort in the kitchen."
The middle third takes us to other worlds and reveals what the central conflict will be, and that's where the narrative starts to go off the rails.  Story-wise, there's a bit too much exposition.  Since so much has to be explained, I'm not sure how the problem could have been solved, but it weighs on the plot.  The last third is far less successful than the first, I think.  The children's confrontation with the Prime Coordinator of Camazotz, and Meg's later struggle with IT, ITself, have a sketchy feel, as if drawn on a storyboard and never fleshed out.  Fleshing out would have made a much longer book, but the themes of A Wrinkle in Time seem too big for 250 pages to cover.  They may be addressed in the four sequels (it was too long ago that I read those, so I don't remember) but most readers won't go on to the sequels.
As for theme, I think the story works better philosophically than theologically.  It's not a Christian novel, even though it employs some Christian qualities and characters, and famously includes passages straight out of the Bible: Romans 8:28, II Cor. 4:18, I Cor. 1:25, and John 1:5, among others.   The ongoing struggle between good and evil is presented as though it were dualistic, with the two sides more or less evenly matched: evil makes inroads, good pushes back; light shines in the darkness, but will the darkness ever be finally overcome?  Mrs Whatsit was once a star who self-destructed in order to beat back The Dark Thing in another part of the universe.  Now she must settle for life as an angel—which she accepts with good grace, even though "I did so love being a star!"  Jesus, in a well-known passage, is mentioned as one of many "fighters" against evil, a cohort that includes Leonardo, Buddha, Beethoven, and Einstein.  The author herself believed that Jesus was much more than that, but in an interview with Mars Hill Forum, she said, "I don't write for a Christian audience.  My understanding of the good news is that you're supposed to spread it, not keep it for those who already have it."
But readers of A Wrinkle in Time will receive news which is not the Gospel—and which, in the long run, isn't all that good.  If they identify with the main characters, they may be tempted to place themselves among the ranks of fighters-against-evil (or at least their wannabes) who can rise above the coercive banalities of their age, unlike those conformist dupes of Camazotz.  A strain of spiritual elitism winds through stories of this type, a strain that's not only ugly but dangerous.  Because, in ourselves, we are not up to this fight.  Our Lord won the victory for us.  We rise from His grave and fight by the power of the Holy Spirit.  Meg, by contrast, finds the weapon to battle IT within herself: the power of love.  Love is powerful, but human love is sadly compromised, and can harm as much as it helps.
None of this is to say that A Wrinkle in Time is not worth reading—it is.  It's also worth talking about, especially in regard to where the story succeeds and fails, and what sort of impression it leaves.  Fiction is not intended to provide answers, but to raise questions and paint pictures of reality, so far as we can understand it.  And, as Mrs. Murry says, "I don't understand it any more than you do but one thing I've learned is that you don't have to understand things for them to be."
Agree? Disagree?  115,000 Facebook fans obviously disagree with my overall critique—what do you think?
A Wrinkle in Time was a featured title in our 2014 Summer Reading Challenge.  Here are Megan's thoughts and some great discussion questions!
More than 75 books for children and teens, all about islands, oceans, and more. Bonus: get a free hand-drawn reading tracker!
Reading Ahead for You
Reviews and Resources Weekly in Your Inbox