"My dear Eric, Once upon a time there was a frog called Mr. Jeremy Fisher . . ."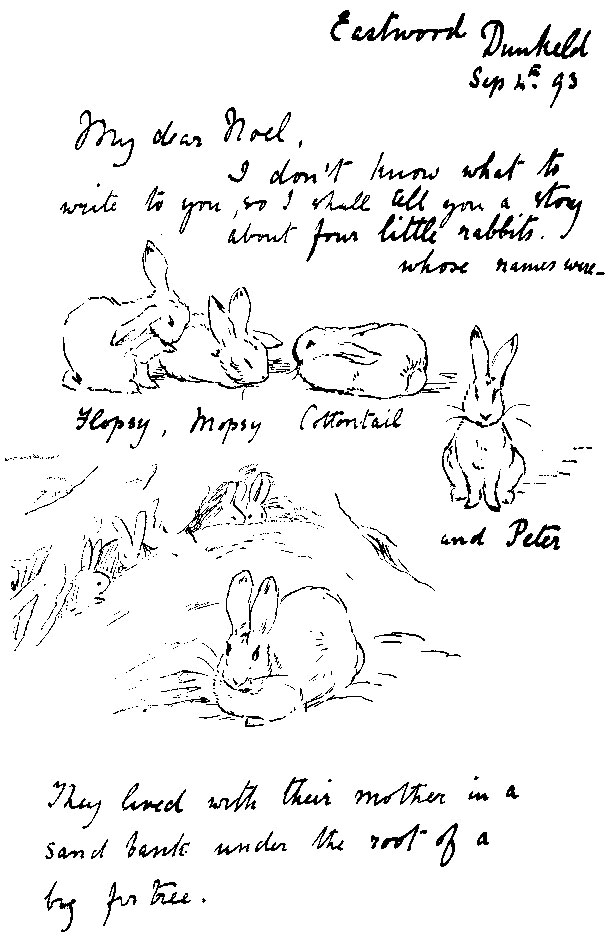 A day earlier, Beatrix Potter had written Eric's older brother.
"My dear Noel, I don't know what to write to you, so I shall tell you a story about four little rabbits whose names were —Flopsy, Mopsy, Cottontail,and Peter."
Almost 10 years later, with the encouragement of the boys' mother, Annie Moore, Beatrix attempted to publish Peter Rabbit.  After being turned down by six publishers, she decided to self-publish.
Using her savings, Beatrix printed 250 copies.  One of these copies was bought and enjoyed by Arthur Conan Doyle.  Doyle was not the only one to enjoy Peter Rabbit.  Due to its widespread success, Frederick Warne & Co., who had initially refused Peter Rabbit, agreed to publish it.
Beatrix Potter, in her mid 30s, had found success.  In Frederick Warne, she found an outlet for her creativity and a channel for her business sense.  She also found something more, as she peppered the Warne brothers with letters.  She found friends.
Early Years
Qui
et by nature and painfully shy, Beatrix had a sheltered childhood.  Her parents were proper, distancing themselves from the fact their inherited fortunes were made in trade.  They also distanced Beatrix from other children.  Why?  Perhaps their snobbishness. Perhaps a fear of germs.  Perhaps because Beatrix was content to spend time on her own.
Content she was —Beatrix lived in her own little world, inhabited by a kind nurse and a growing array of pets.  When she was 6, her little brother Betram joined Beatrix's small world.
Throughout her childhood and into adulthood, the Potter family would spend their summers in Scotland, or —in later years— in the Lake District.  During these summers Beatrix fell in love with the lakes, cottages and farms of the country.
Beatrix's creativity was encouraged by drawing lessons.  Her love of natural science was fostered by hours in museums. Only too late did her parents realize their daughter had no intention of leaving these passions and becoming "proper."  Instead, while faithfully loving her parents, Beatrix was firmly setting her own course in life.
Writing & Later Life
As Beatrix continued writing and gaining popularity, her friendship with the publishers grew into something more.  Despite her parents' deep opposition, Beatrix and her editor Norman Warne became engaged in 1905.  A month later, Norman was dead.
Beatrix was shattered.  Though still living with her parents, she increasingly turned her attention toward the Lake District, purchasing Hill Top Cottage later in 1905.  Through her growing interest in her farm, as well as acquiring and preserving Lake District farmland, Beatrix became friends with William Heelis, a local solicitor.  In 1912, Heelis proposed to Beatrix.  Despite her parents' strong opposition, again, Beatrix married Heelis in 1913 and moved to the Lake District.
Farm life suited Beatrix wonderfully.  She continued to write, and answered letters to children around the world.  She scorned publicity, preferring to be recognized for her Herdwick sheep breeding than her work as an author.  Village children remembered a taciturn old Beatrix who disapproved of their rambles and mischief.
Beatrix never had children, but she never forgot her own childhood.  She believed in simple stories:
My usual way of writing is to scribble, and cut out, and write it again and again.  The shorter and plainer the better.  And read the Bible (unrevised version and Old Testament) if I feel my style wants chastening.
On her death in 1943, Beatrix owned 15 farms and over four thousand acres of land.  She left it all to the National Trust.  And, to children around the world, she left her wonderful stories.
Further Resources:
Nothing is Impossible: the story of Beatrix Potter by Dorothy Aldis (MG biography)
Letters to Children from Beatrix Potter by Judy Taylor
Biography of Beatrix Potter – Victoria and Albert Museum
Miss Potter (Film: a sweet introduction to Beatrix's life)
Stuck at home? Enjoy our FREE Christian read-along adventure for all ages with lots of book ideas, discussion questions, and more!
Reading Ahead for You
Reviews and Resources Weekly in Your Inbox