It's our final Newbery Buzz of the 2018 season. Betsy and Alysha discuss two graphic novels for this last round.
Graphic Novels as Newbery Winners?
Graphic novels as Newbery Award winners or honors is nothing new by now. Flora & Ulysses by Kate DiCamillo, El Deafo by CeCe Bell, and Roller Girl by Victoria Jamieson have earned Newbery attention before, and all set the bar high for what a graphic novel can accomplish. American Born Chinese won the Printz even earlier. This year, we've been hearing buzz about two graphic novels in particular, All's Faire in Middle School by Victoria Jamieson (author of the aforementioned Roller Girl) and Real Friends by Shannon Hale. These are talented authors!
All's Faire and Real Friends: What Distinguishes Them From Each Other?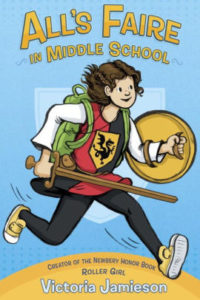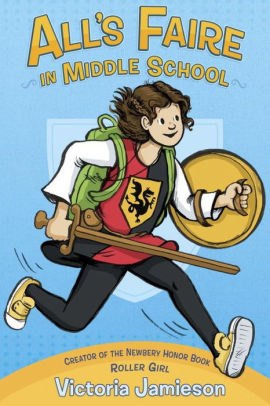 Both All's Faire and Real Friends are about the trials and tribulations of middle school, and both stories are told by a girl. But these books are actually quite different from each other. Alysha, what would you say are some of the defining differences between the two books?
Alysha: I would say the defining difference between the two novels would be the depictions of the main characters. In Real Friends, Shannon Hale tells the story of a shy, imaginative, and anxious young girl, not even in middle school. She weaves these complex emotional situations into the fabric of the graphic novel and shows that young children need the tools to be able to understand their own emotional needs. All's Faire showcases Imogen, a confident young lady who has never had to question her way of life until she meets "normal" kids at school. Imogen has to deal with complex emotions also, but through the context of the Renaissance Faire, is able to have a large support system around her that Shannon did not have in her earlier years. Both stories rely on imagination, wit, heart, and deep storytelling to reach their intended audience.
Betsy: That's a great way to describe the differences between these two. I also thought All's Faire was far more complex, artistically speaking. The art is more intricate (both the storylines AND the chapter title pages—those are not to be missed!), and I thought the storyline a bit more developed. Part of that is no doubt due to the different ages of the two protagonists, although I think both of these are targeting "middle grades" as an audience. Do you think one is more appealing than the other?
Is One More Appealing Than the Other?
Alysha: Oh yes, the chapter title pages for All's Faire were gorgeous. Hmm, which volume did I find more appealing? I loved them both for different reasons. All's Faire appealed to me in the sense that I loved the setting of the Renaissance Faire, the comedic timing, and the Fairy Tale themed art in the story. Two of my sisters-in-law work at the Renaissance Faire each summer, and my husband and I have been going each year for seven years. Jamieson did a phenomenal job with her depictions of the Faire. It's a beautiful setting to showcase the awkwardness of navigating the first steps to adulthood.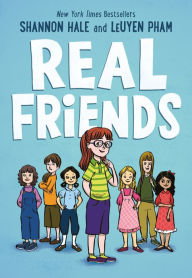 Shannon Hale's Real Friends appealed to me because I felt as if I could relate to the title character through my elementary and middle school years. I suffered from OCD and anxiety, but I didn't know it then. This story resonated with the younger girl of my past, and it gave me hope for other children experiencing the same thing. I loved Hale's author's notes in the back of the novel when she explained a bit more about her own story.
If I had to pick one that I liked the best, or that I think would be more appealing to a wider audience, All's Faire would win in a heartbeat. If I had to pick the one that reached me on a personal level, Real Friends would win.
Betsy: I identified more with All's Faire on both counts—but it's worth pointing out that these two young ladies are very different from one another, and different readers will resonate with one book more than the other.
Unique Strengths of the Two Books
What are some of the unique strengths in either of these books that might earn it an award? The Newbery committee would use the word "distinctive," and I've been trying to decide what is most distinctive about each of them.
Alysha: A unique strength of All's Faire is that the graphic novel blends fantasy and reality in a beautiful way. The setting of the Renaissance Faire gives the book an extra layer of both fantasy and reality. I love that the story shows how people act and are treated differently in the "real" world verses the world of the faire. Imogen has to navigate both worlds which is a great parallel for growing up in general.
Betsy: I loved the setting of the Renaissance Faire! It certainly was a unique feature. Jamieson does a lovely job of setting her graphic novels in unique places and situations (Roller Girl was about a roller derby team), and yet they still feel so relatable. What do you think some of the unique strengths of these books are, the sorts of things that might garner them some Newbery love?
Alysha: Some unique strengths of both books are the way they are able to showcase such depth of emotion, family relationships, and friendships through the medium of the graphic novel. I felt just as emotionally drawn into each story as if I'd been watching a film or reading a novel. I love that graphic novels are becoming more and more popular, especially in the middle-grade section. Both of these stories felt genuine, and the heroines felt like they could speak to us all. Both stories encouraged kindness and setting boundaries for one's emotional and physical health. I love that. Students these days need to have stories like these come across their paths, ones that showcase the strength of family, the epic power of kindness, and the beautiful pain of growing into an emotionally healthy adult.
Betsy: I'd agree, Alysha—the art form of the graphic novel really lends itself to showing emotions in a way that can feel trite in prose form. I'm not sure whether the Newbery committee can officially consider the art/format of the book or whether they are bound by prose alone. I think both novels use prose/text to great effect, but neither would be the same without their accompanying art. The art of All's Faire is especially distinctive. Again, those chapter title pages that helped carry the extended metaphor of St. George and the Dragon along with the story itself—so much fun and so very well done.
But Wait: Some Things to Note….
Are there any troubling elements about either of these books that might make us pause if we were the ones awarding books the Newbery? As much as I love the art and the general storylines, I'll confess that parts of at least one of them made me pause!
Alysha: As far as elements that would make me pause: I believe the language in All's Faire might be too mature for a sixth grader, and the dependence on crystals for luck or power or peace is a bit too New-Agey for me.
In Real Friends, Shannon's relationship with her spirituality stemmed from a distinctly Morman point of view. It's definitely a conversation starter for parents of younger children.
Betsy: I'm glad you pointed out the crystals in All's Faire! I didn't take them seriously and had actually forgotten all about them! But you're right; those border on New Age mysticism. And there were several panels in which the content seemed upper middle school—not a book I'd hand to 9- or 10-year olds. However, I had no issues handing it to my 12-year-old daughter (who enjoyed this book immensely!). She's an avid fantasy reader, loves Shakespeare, and is taking drama at our co-op. I knew she'd love the setting especially, and she's read widely enough that I wasn't too worried about some of the language.
Frankly, I was very bothered by the portrayal of Jesus in Real Friends. It's deceptive because it's easy to read the book and think it's a "Christian" book; we often turn our "discernment radar" off when we read books like this. But the portrayal of Jesus as a friend who's only an encouragement and not simultaneously the Savior of his people as well as the Creator/Sustainer of this very world is just not sufficient. We serve a God who is far more than a friend. He cares for us better and more completely than any friend can, but even more than that, He is all powerful and righteous. We really can turn to him for help in our troubles, not just as a confidant. This is a book I'd want to read first before handing to my kids partly so I could have this discussion with them!
Alysha: I agree with you there, Betsy. I love the way you pointed out that although Jesus is a friend to us, He is also and equally our Creator/Savior/Sustainer. To paraphrase from the Chronicles of Narnia, He is not tame, but He is good. Upholding a docile image of Jesus is not showing the full picture, and yes, I believe that parents should read this volume first before handing it over to their kids.
And here are RedeemedReader's reviews of All's Faire in Middle School and Real Friends.
What do YOU Think?
Both Alysha and I think All's Faire is the more distinguished of the two and has a better shot at the Newbery. But who knows! Have you read either of these books? What did you think?
More than 75 books for children and teens, all about islands, oceans, and more. Bonus: get a free hand-drawn reading tracker!
Reading Ahead for You
Reviews and Resources Weekly in Your Inbox