Same Kind of Different As Me is an emotional and spiritual memoir of two men who became friends despite their backgrounds, races, and preconceptions.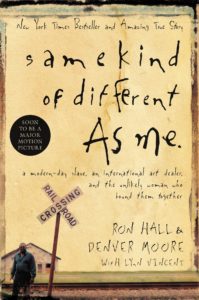 *Same Kind of Different as Me by Ron Hall and Denver Moore with Lynn Vincent. Thomas Nelson, 2006. 237 pages
Reading Level: Adult, ages 16 and up
Recommended For: Teens and adults, particularly as a discussion starter
Denver Moore grew up destitute, picking cotton in Louisiana. One day, he'd had enough. He hopped a train for Houston with nothing in his pockets and no place to go. People with no money and no place to go usually end up on the streets.
Ron Hall is an art dealer–a very, very rich art dealer. When Ron's marriage has troubles, he and his wife Deborah renew their commitment to one another; Ron is even willing to go along with her newfound spiritual zeal when it means serving dinner once a week at the Union Gospel Mission.
And so Ron and Denver meet. As their story unfolds, readers gain an intimate portrayal of what happens when we trust the Lord's leading, when we reach out across all visible and societal barriers, when we let others carry our burdens.
As a professional reader, I read a lot of books. Some really stand out, stay with me weeks and months after I read them. Same Kind of Different As Me is one such book. I made the mistake of reading it poolside this summer; I still laughed and cried, fully immersed in the experience despite the cacophony around me. I found myself questioning my own faith–or lack thereof. I found myself thinking and thinking some more about how I have assumed social and cultural stereotypes. This is not a "how to " manual for serving the poor or sharing the gospel. Told in alternating perspectives, it is an honest and emotional memoir of two men who became friends and spurred one another on to love and good deeds even as they both grew in their faith. But it will motivate readers to analyze just how much they are serving the poor or sharing the gospel. Now that the movie is out, it's a perfect time to read this book with a group of mature teens and discuss together. Some readers may be uncomfortable with Denver's visions, but remember: he can't read, so how else is the Lord going to communicate with him? Food for thought.
Cautions: Violence and street life scenes/behaviors
Rating: 4.75
Worldview Rating: 5
Artistic Rating: 4.5
*indicates a starred review
Other discussion starter nonfiction books along similar lines include The Queen of Katwe, Every Falling Star, Running For Your Life.
Have you read Same Kind of Different As Me? What did you think? Have you seen the movie?
Support our writers and help keep Redeemed Reader ad-free.