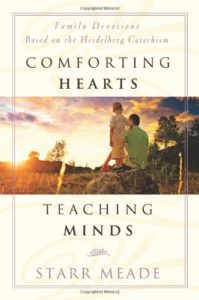 Family devotionals centered around the Heidelberg and Shorter catechism are based on Scripture and are designed to help families memorize the catechisms.
*Comforting Hearts, Teaching Minds: Family Devotionals Based on the Heidelberg Catechism by Starr Meade. P & R, 2013.
*Training Hearts, Teaching Minds: Family Devotionals Based on the Shorter Catechism by Starr Meade. P & R, 2000.
Reading Level: Adult
Recommended For: Families with school-age children (ages 8-10 and up)
In the hubbub surrounding the 500th anniversary of the Reformation this year, was your interest piqued in the historical Reformation catechisms? Have you ever read them? Memorized them? Starr Meade has taken both the Heidelberg and Westminster Shorter Catechisms and turned them into family devotional guides that are robust and saturated with Scripture. Each week includes 6 short daily readings along with a Scripture passage (or two) to read.
The Heidelberg was originally written as a series of questions and answers organized by Lord's Day, a set for each Sunday of the year. Meade has kept this organizing structure, using the specified questions for each week of study (stretching a couple of weeks into more than one). The text of the questions and answers begins each chapter with 6 daily devotional readings following.    Theoretically, families can study and memorize the entire catechism in a little over a year. If you are unfamiliar with the Heidelberg, know that it includes a break down of the Apostle's Creed, the 10 Commandments, and the Lord's Prayer; these are jumping off points for much further study.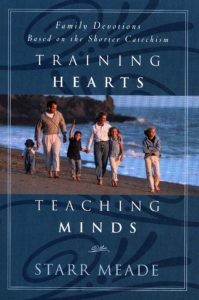 The Westminster Shorter Catechism was not written around a Lord's Day structure. Meade simply uses each question as the basis for the week's daily readings and memory work. Thus, Meade's devotional guide for this catechism should take families approximately two years to study and memorize (with less each week to actually memorize than the Heidelberg). This catechism also uses the 10 Commandments as part of its structure, but the remainder is a very systematic theology in question and answer format.
Cautions: none
Overall Rating: 5
Worldview Rating: 5
Artistic Rating: 5
*indicates starred review
These guides appeared on the 2017 Winter Book Fair List. Check it out for more gift-giving recommendations! Starr Meade has also written devotional guides directed to kids, such as God's Mighty Acts in Creation.
Have you used one of these guides in your family devotions? Do you have another favorite family devotional guide?
More than 75 books for children and teens, all about islands, oceans, and more. Bonus: get a free hand-drawn reading tracker!
Reading Ahead for You
Reviews and Resources Weekly in Your Inbox