Fascinating middle grades nonfiction about the Whydah: a slave ship turned pirate ship turned treasure hunter glory.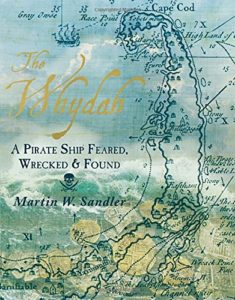 The Whydah: A Pirate Ship Feared, Wrecked and Found by Martin W. Sandler. Candlewick, 2017. 176 pages.
Reading Level: Middle grades, ages 10-12
Recommended For: Fans of nonfiction, nautical tales, and pirates (ages 8-15)
The Whydah was once captained by the fearsome Black Sam Bellamy, a pirate feared both by other pirates as well as the merchant ships he sought to plunder. The Golden Age of Piracy flourished alongside America's own colonial adolescence, and the tensions between Britain, Spain, and France offered pirates plenty of easy marks. Sandler tells of the Whydah's beginnings as a slave ship, its capture by Black Sam and his crew, and its eventual sinking off the coast of Cape Cod. But the Whydah's story doesn't end with its sinking. What would you do if you knew an enormous pirate ship carrying one of the biggest treasures had sunk in a relatively known spot? Treasure hunters sought the Whydah for centuries; its eventual discovery late in the 20th century was one of the biggest archeological finds in pirate-ship history.
Sandler tells a tremendously fascinating story in this account of the Whydah and its various owners and seekers. Along the way, he includes plenty of supplementary material that is equally fascinating: the history of the Jolly Roger, the articles a pirate might have signed aboard ship, the strict democratic rule of law aboard pirate ships, myths of pirates, a brief history of diving, and more. Primary source documents in the form of notices, maps, and similar artifacts also occur frequently. An interesting question to pursue with kids reading this is the way democracy worked on board the pirate ships and the growth of similar democratic principles in the American colonies. Additionally, many of the reasons pirates because pirates in the first place were due to their escape of similar backgrounds as many of the early colonists. How much did the growth of America's new government and the pirates' strict code of honor influence each other?
Cautions: violence (after all, these are pirates! But it's not overly graphic)
Overall Rating: 4.5
Worldview Rating: 4.25
Artistic Rating: 4.75
For more nautical history, check out The Sinking of the Sultana and Magellan: Over the Edge of the World.
More than 75 books for children and teens, all about islands, oceans, and more. Bonus: get a free hand-drawn reading tracker!
Reading Ahead for You
Reviews and Resources Weekly in Your Inbox