The Wonder of the Greatest Gift offers a complete Jesse Tree experience with devotional and ornaments for the whole family to enjoy.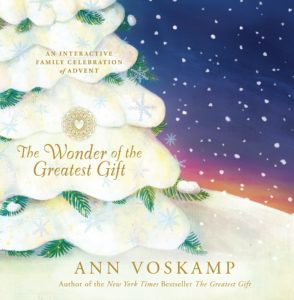 The Wonder of the Greatest Gift: An Interactive Family Celebration of Advent by Ann Voskamp. Tyndale House, 2017.
Reading Level: Middle grades, ages 8-12
Recommended For: Ages 0-10, family read aloud/activity
Based on Unwrapping The Greatest Gift Advent book, published in 2014, The Wonder of the Greatest Gift adds a new, pop-up dimension to the experience. A 13-inch tree "pops up" from the base; each day's devotional has a tiny, paper ornament to hang on the tree. These little ornaments may not hold up longterm, especially if they are handled by many little fingers. However, for families who do not have time to make sturdier ones, or who do not have the money to purchase others, this is a good fit. When opened, the base is quite large, so be prepared with enough space! A small booklet is included that takes families on a day-by-day Advent journey using the Jesse Tree.
Families who already have Unwrapping the Greatest Gift will not find much new information or text in this new version, but the pop-up dynamic and tiny ornaments are nice, tangible reminders of the devotional content. If you don't already have the first book, this is a nice substitution, particularly if you have young children and/or want to incorporate the Jesse Tree symbolism and narrative into your Advent readings! This would also make a terrific gift to grandchildren or to a local faith-based shelter who would be interested in incorporating this into their routine.
Cautions: none
Overall Rating: 4.75
Worldview Rating: 5
Artistic Rating: 4.5
More than 75 books for children and teens, all about islands, oceans, and more. Bonus: get a free hand-drawn reading tracker!
Reading Ahead for You
Reviews and Resources Weekly in Your Inbox