Voices of Christmas is a beautiful and poetic exploration of the different characters in the Christmas story–perfect for middle grades kids!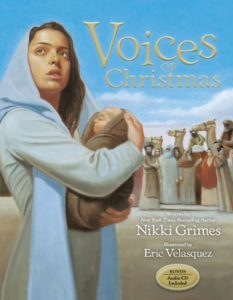 *Voices of Christmas by Nikki Grimes and illustrated by Eric Velasquez. Zonderkidz, 2009. 32 pages.
Reading Level: Picture Books, ages 8-12
Recommended For: Middle grades and family read aloud
Each familiar character in the biblical story of Christmas gets his or her own two-page spread in this poetic recreation of the Christmas story. Elizabeth marvels at the baby Mary carries, knowing her son will be leading people to Mary's baby. Joseph reminds himself that the angel said not to divorce Mary. Each of the three magi wonders about this Child they seek. Herod fumes over the news of a special baby destined to rule. Shepherds, Mary, Anna and Simeon–even the innkeeper and a neighbor girl have their say. Each two-page spread begins with words from Scripture and is followed by a soliloquy in which Grimes imagines the thoughts and feelings of the given character. Velasquez's remarkable illustrations show the characters, often in the midst of emotional moments, against an authentic-looking setting.
This is a wonderfully appealing addition to the many nativity books. Grimes and Velasquez's respective arts lend depth and nuance to the familiar story, elevating it from the common "dewy" childlike nativity scenes. Instead, Voices of Christmas reminds readers that this story–THE story–was a dramatic, life-altering event. Grimes ends with a poem directly to the readers, inviting them to consider their own hearts and response to the Incarnation. Velasquez's illustrations show a nice range of diversity, too, which is refreshing in a sea of "white people" nativity scenes. After all, the characters in the biblical story were all Middle Eastern! This picture book will help middle grades kids re-examine this story they've heard over and over. Highly recommended, especially for upper elementary and middle grades kids.
Cautions: mention of Mary having another man's child (Joseph's reflection–but it's accurate to the biblical account!)
Overall Rating: 4.75
Worldview Rating: 4.75
Artistic Rating: 4.75
*indicates a starred review: a "best of the best" in our estimation
We are participants in the Amazon LLC affiliate program; qualifying purchases you make through affiliate links like the one below may earn us a commission.
Please follow and like us: