The gentle story of a sympathetic red oak makes a fun read-aloud for ages 4-12.
Wishtree by Katherine Applegate.  Feiwel and Friends, 2017, 211 pages
Reading Level: Middle grades, ages 8-10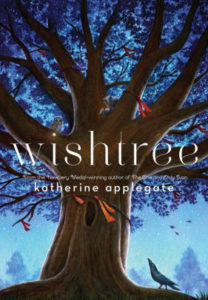 Recommended for: ages 8-12
Every May day, people come from miles around to tie their wishes to a venerable red oak.  Too bad they don't stick around to listen.  Most trees are not very talky, but "Red" has 216 rings worth of experience to convey to those ears that are willing to hear.  "Trees can't tell jokes.  But they can certainly tell stories."  And if she sometimes comes across as a tad too much "Wise Old Tree," her friends don't really mind.  These include Bongo, a sarcastic crow, and at least four animal mamas-with-babies who make their home among Red's hollows and branches.
Lately, Red has picked up some bad vibes in the neighborhood.  It started when the Muslim family moved in.  Young Samar walks to school alone, though she fervently wishes for a friend.  Stephen is the same age and would make a perfect friend, to Red's mind, but the two can't seem to overcome the general air of suspicion on the block.  It would be nice to get them together—but when Red's property owner decides it's time to cut her down, creating a friendship seems much more than nice.  It would be a final fitting act.
The overall tone is sweet and gently humorous.  Red sounds a lot like Ivan (of the author's Newbery-medal-winning novel from 2015): an observant creature puzzled by the ways of humans.  Though the takeaway isn't especially deep, "we should all be kind to each other" is certainly a theme anyone can support.  And the four-legged characters—especially the skunk, raccoon, and opossum babies—make this a fun read-aloud for ages 4-12.
Cautions: None
Overall rating: 4 (out of 5)
Artistic value: 4.5
Worldview/moral value: 3.5
Please follow and like us: