The Witch of Blackbird Pond is a modern classic with good reason: young Kit Tyler faces the questions all adolescents face as she tries to balance obedience with following her beliefs.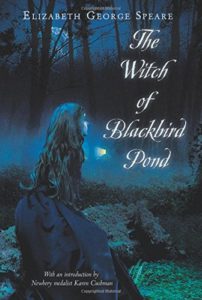 *The Witch of Blackbird Pond by Elizabeth George Speare. HMH Books for Young Readers, 2011 (orig. 1958). 272 pages.
Reading Level: Middle grades, ages 10-12
Recommended For: Middle grades, ages 10-12, and up!
Kit Tyler surveys her new hometown with dismay: she left a vibrant, colorful Barbados community for a somber, Puritan New England town. Barbados, warm literally and figuratively, seems so far away from colonial Connecticut, which is cold literally and figuratively. Colonial New England was a harsh place in which to eke out a living with its unforgiving climate and superstitious culture.  As Kit struggles to adapt to the rules and standards of the strict colony, she constantly makes mistakes and gets in trouble. Despite her desire to honor her uncle and aunt, she somehow manages to make things worse. The proverbial straw is her friendship with an old Quaker woman and her reading lessons for a young girl in the town.
Nearly 60 years after its first publication, The Witch of Blackbird Pond continues to delight new readers. The colonial setting is a draw for those studying early American history, but the themes of the book transcend its setting. Every community has moments where it lets superstition, gossip, and misunderstanding govern instead of kindness, rationality, and truth-telling. Kit's story is one many adolescents resonate with as she is caught between the unswerving obedience of childhood and the more mature decision-making of an adult. When is it right to disobey those in authority? to choose kindness? to stand up for your beliefs? How do we balance mercy and justice? These are questions we never really outgrow, and the Bible has much to say about them! This is a terrific book to prompt thought-provoking discussions as well as to encourage us to look closely at history; we can learn a lot from the mistakes of those who've gone before.
Cautions: none  (the "witch" in the title refers to a Quaker woman who is the victim of the town's superstition)
Overall Rating: 4.75
Worldview Rating: 4.75
Artistic Rating: 5
*Indicates starred review
More than 75 books for children and teens, all about islands, oceans, and more. Bonus: get a free hand-drawn reading tracker!
Reading Ahead for You
Reviews and Resources Weekly in Your Inbox