Starred review for Echoes of Eden, in which Barrs offers guidelines for evaluating art and literature from a Christian review.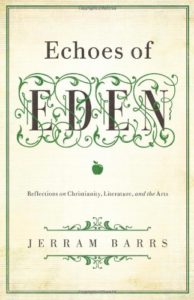 *Echoes of Eden: Reflections on Christianity, Literature, and the Arts by Jerram Barrs. English, 2013. 208 pages.
Reading Level: Adult
Recommended For: Parents, Librarians, Teachers, and Teens
How should we evaluate literature (and all art) as Christians? What should our standards be? Why should we seek to evaluate art? Can we read secular art as Christians? Should we? Why is there art in the first place? Barrs tackles all these questions and more in this eminently readable book. The first half of the book covers the deep, philosophical questions about how to evaluate art (and produce it) as Christians; the second half looks at five well known artists through that same lens: Shakespeare, C. S. Lewis, J. R. R. Tolkien, J. K. Rowling, and Jane Austen. Barrs' eleven criteria for evaluating art (chapter 4) are worth the price of the book.
I'll confess that I enjoy this book because Barr is eloquently saying  the same things I've read, discussed, and thought over the years; you might say, he's "preaching to the choir." Still, even thought I've spent 20 years discussing literature from a Christian perspective–especially with my Redeemed Reader cohorts!, I have found much food for thought in this book. Barrs' analysis of the particular authors he covers is excellent. Literature students (formal or informal) will glean much and find their thinking challenged. This is a book for the "layperson;" that is, you do not need to be an art or literature scholar to understand Barrs' terms and philosophy. Accessible, to the point, and thoroughly grounded in a biblical worldview, this is a book to add to your shelves!
Cautions: none
Overall Rating: 5 (out of 5)
Worldview Rating: 5
Artistic Rating: 5
For other books that look at art, literature, and faith, see Lit! by Tony Reinke. This title is also part of our Literary Nightstand series.
More than 75 books for children and teens, all about islands, oceans, and more. Bonus: get a free hand-drawn reading tracker!
Reading Ahead for You
Reviews and Resources Weekly in Your Inbox