The full-Bible sweep covered by Kevin DeYoung's The Biggest Story is back, in board book format!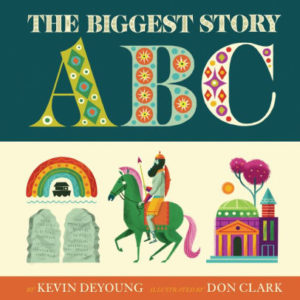 The Biggest Story ABC by Kevin DeYoung, illustrated by Don Clark. Crossway, 2017, 26 pages.
Reading level: Picture Book, ages 0-4
Recommended for: ages 2-6
Two years ago, Kevin DeYoung published The Biggest Story, a picture book for early-elementary grades with striking illustrations by Don Clark. The two have teamed up again for a book aimed at an even younger audience. True to its title, The Biggest Story ABC takes children through the Bible narrative by keying words to the letters of the alphabet:
In the beginning, God created Adam and Eve.
Everything was Beautiful in God's good world.
Then Adam and Eve sinned, and everything was put under a Curse.
But God promised to send a Deliverer to save his people.
And so on, through Judges, Kings, Prophets, captivity, and hundreds of years of Quiet while God was getting Ready to send his Son to die upon a Tree. It's a clever approach, and could form an easy reference for memorizing a basic outline of the Bible. The sturdy board-book format should last through several children and will fit easily inside a diaper bag to take to church. Toddlers probably won't be captivated by the book, as the themes, though simplified, need a slightly older perception to grasp. And the colorful illustrations may be too stylized for most little ones to appreciate. As a teaching aid, a "church book," and a mnemonic device, this unique ABC book could be good for years of service.
Overall Rating: 4.75 (out of 5)
Worldview/moral value: 5
Artistic value: 4.25
Support our writers and help keep Redeemed Reader ad-free.