A middle grades mystery that has become a modern classic: The Westing Game is just as engaging as ever!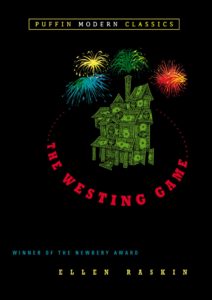 *The Westing Game by Ellen Raskin. Puffin Modern Classics, 2004. (orig. 1978). 192 pages.
Reading Level: Middle grades, ages 10-12
Recommended For: Middle grades, ages 10 and up
Turtle Wexler is brave and good at figuring out clues, but living in the midst of a murder mystery is testing her skills–especially when she was a witness to the dead body. Of the new tenants in Sunset Towers, sixteen of them are mentioned specifically in the will of Samuel Westing. Turtle is one of them! All sixteen are paired up, and whichever pair solves the murder wins. Let the game begin.
Authors that have respect for their readers (of any age) and aren't afraid to write a complex, tightly constructed novel stand the test of time. Raskin is no exception, and The Westing Game remains one of the best mysteries for middle grades. Intricately written with cryptic clues, strong characterization, and an extremely clever puzzle make this a winner with all kinds of readers. Its admirably short length and direct prose stand in marked contrast to so many bloated novels of today's era. Read this one when your kids are reading it so you can discuss it together! Part of the reason we enjoy mysteries so much is because they reward truth, justice, and rational thinking–all ways in which we reflect the image of God.
Cautions: none
Overall Rating: 4.75
Worldview Rating: 4.5
Artistic Rating: 5
*Indicates a starred review; we love this book so much that we gave it a starred review several years ago, too! Check out Janie's earlier review for more information.
Reading Ahead for You
Reviews and Resources Weekly in Your Inbox