A boy takes to the Appalachian Trail to ease a guilty conscience, in this adventure novel for middle grades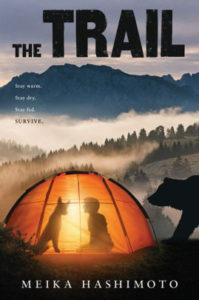 The Trail by Meika Hashimoto.  Scholastic, 2017, 229 pages.
Reading Level: Middle grades, ages 10-12
Recommended for: ages 10-15
Toby and Lucas had a list of ten things they were going to do before graduating middle school.  They did them all, until the last: Hike the Appalachian Trail from Velvet Rocks [New Hampshire] to Katahdin [Maine].  When Toby gets around to that one, he's alone.  His grandmother and guardian would never have allowed it, so he doesn't tell her.  She wouldn't understand why he has to do this.
The first day is okay, but after that the expedition begins to fall apart.  He's failing all his "keeps"—keep warm, keep hydrated, keep fed, keep an eye on the sun.  And a scrawny dog ate all of his one hot meal.  Clearly, Toby has no aptitude for this; something else is motivating him, and readers will suspect what it is from the first few pages.  But what Toby thought would be a personal quest will soon involve others, as hurts and needs converge on the trail.
This is a solid adventure tale that surpasses the genre to become a redemption story.  Readers will learn a lot about hiking—what to do as well as what to avoid—and experience with Toby the challenge of swift and drastic weather changes, grueling rock climbs and unpredictable wildlife.  Human life can be unpredictable as well, and his divorced parents haven't left him with much self-confidence to stand on (the thin backstory about them is one of the unsatisfying features of this novel).  But by the time Toby completes his walk, he knows what to go of and what to hold on to.  Even though he has no apparent spiritual realities to hold on to, his journey is worth taking.
Cautions: None
Overall rating: 3.75 (out of 5)
Worldview/moral value: 3.5
Artistic value: 3.75
Reading Ahead for You
Reviews and Resources Weekly in Your Inbox