A unique YA series-opener, Beneath takes us below the streets of New York City where trouble is brewing.
Reading level: Middle grades, ages 10-12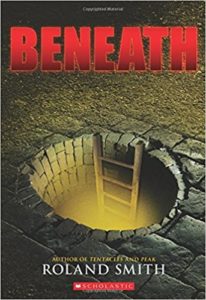 Recommended for: ages 12-15
Patrick O'Toole has an unusual family, but at least they're together.  Or they were, until that incident with the tunnel.  His 19-year-old brother Cooper (or Coop) had dug the tunnel in their northern Virginia neighborhood, out of nothing more than his inexplicable attraction for the underground. Coop had spent months digging it, with Pat's help on the weekends, but the project ended abruptly when Coop hit a gas line.  Both escaped with their lives–barely–but things fell apart after that.
One year after Coop ran away, Pat receives a package from him: a small digital recorder.  Coop's voice instructs his brother to send his own recorded messages via a PO Box in New York City so they can communicate with other.  It works fine, until Coop stops replying.  November stretches into December and still no word.  Scheduled to go to Florida to spend the holidays with his mom, Pat exchanges his train ticket for the City instead.  He's got to find Coop.  All the signs point down–underground.  As Pat picks up on clues and makes fortuitous acquaintances, he begins to unravel a story much bigger than one missing brother.
This is an intriguing mystery/adventure with mythic overtones similar to "Orpheus in the Underworld."  What Pat finds "beneath" seems a bit far-fetched, but readers eager to turn the page won't mind.  Roland Smith is a reliable source for good, plotty stories with no cursing or perverse values: there's even a family-affirming twist at the end.  Oh, but the end is not the end–the adventures of Coop and Pat continue in Above, which is available now.
Cautions: None
Overall Rating: 4 (out of 5)
Worldview/moral value: 3.75
Artistic value: 4.25
Reading Ahead for You
Reviews and Resources Weekly in Your Inbox