This new book of Advent readings takes us deep into the theological and spiritual meaning of Christ's Incarnation.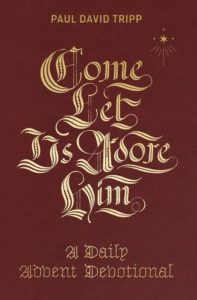 Come Let Us Adore Him by Paul David Tripp. Crossway, 2017, 153 pages.
Reading Level: 16-up
Recommended for: Ages 16-adult
Sadly, many of us aren't gripped by the stunningly magnificent events and truths of the birth of Jesus anymore. Sadly, may of us are no longer gripped by wonder as we consider what this story tells us about the character and plan of God. Sadly, many of us are no longer humbled by what the incarnation of Jesus tells us about ourselves . . .
How many Christmases have you experienced? Many of us have treasured memories of the holiday season, from the time we ourselves were children as well as from years of celebrating with our own kids. How many of those memories are specifically linked with the Incarnation? Though the story of Jesus' birth, the carols about that blessed event, the Christmas eve church services and sermons may glow warmly in memory, can we say they are truly central to our experience of the season?
Paul David Tripp, author of several family-related counseling books (including one of the best on marriage) and devotional books, understands how human hearts grow cold to the "true meaning of Christmas." In these pages he explores the background, the necessity, and the less-then-joyful context of Jesus' birth. A strong undercurrent of sadness runs through these meditations, but the joy is more substantive for that.
Like many devotionals, each meditation is short enough to read in a family settng, with scripture references. Unlike many devotionals, the entries do not include a written prayer or song suggestion. Other distinctions: the readings do not end on December 25, but continue to the end of the month. Though written for adults, each reading includes a one-word theme (e.g., broken, guarantee, suffer, war, sovereignty) to discuss with younger children. The content is theology-rich, Christ-centered, and worth revisiting in a few years.
Overall rating: 5 (out of 5)
Worldview/moral value: 5
Artistic value: 5
Please follow and like us: