Seven classic fairy tales are retold in a concise but winning style that highlights both their humor and sympathy.
Brave Red, Smart Frog: a New Book of Old Tales by Emily Jenkins.  Candlewick, 2017, 94 pages.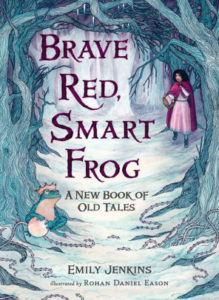 Reading Level: Middle Grades, ages 8-10
Recommended for: all ages
"Some kisses break enchantments.  And other kisses begin them."  Snow White ends with one kind; the Frog Prince with another.  Most of us know the seven classic fairy tales retold here, but somehow they never get old, especially when told in a fresh new voice that humanizes without trivializing.  These are not smart-alecky, updated versions, or "dark," brooding ones, but retellings that leave the traditional structure intact while adding personality.
Why (for instance) did Hansel and Gretel's stepmother marry their father?  "Well, she was no longer young, and the woodcutter was exceedingly handsome.  Good looks can make people giddy sometimes."  But he's still trapped in grief about his last wife, and mopes about the house not doing much.  The children become a liability to their stepmom, so out they go, into the "strange and frozen forest you may have heard about before."  You've heard of it because the Forest, that dark and mysterious place where any evil witch or ogre may hide, serves as the lurking background for several of these tales.
K. Chesterton's famous essay about "The Ethics of Elfland" teased out five basic truths a good fairy tale illustrates: 1) The world is magical; 2) The world is meaningful; 3) The world is beautiful; 4) The world is deserving of gratitude; 5) The world is to be cherished. This "New Book of Old Tales" may lack some of the fairy dust Chesterton was looking for, but the slightly contemporary tone does not rob the stories of their timelessness or strangle them with "relevance." The friendly, conversational style makes it a great read-aloud for bedtimes or afternoon rest times.
Overall rating: 4 (out of 5)
Worldview/moral value: 3.75
Artistic value: 4.25
Please follow and like us: