Reformation ABCs introduces readers quickly to the people, places, and things of the Reformation in engaging picture book format.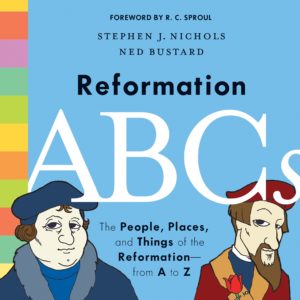 Reformation ABCs: The People, Places, and Things of the Reformation–from A to Z by Stephen J Nichols and Ned Bustard. Crossway, 2017.
Reading Level: Picture books
Recommended For: Families with kids of all ages
There were many great contributors to the Reformation, from Augustine to Zwingli in Zurich, and when you have a lot of information to cover, it helps to start with a picture book to get the big picture. Reformation ABCs includes not only major characters and features of this great historical event, but also a few significant numbers, symbols and a timeline.
Nichols and Bustard follow their previous church history alphabet book with a narrower focus, more thorough development of each subject, and improved design. The book is smaller and contains more text on each page. The pages are colorful, with recognizable cartoon representatives of each historical figure, mixed with photographs. Cartoons are not my favorite style, but it works. I don't know why Nichols feels compelled to multiply things each letter stands for (why do you need golf and giraffe with Geneva?). Still, the alphabet provides a solid organizational framework for the Reformation history covered.
Overall, although it is an alphabet book, it is designed for a range of ages in a whole family. The writing style is engaging, creating a nice introduction to names that may already be recognized, but not fully appreciated. This is a book to add to your collection.
Cautions: none
Overall Rating: 4
Worldview Rating: 5
Artistic Rating: 3
More than 75 books for children and teens, all about islands, oceans, and more. Bonus: get a free hand-drawn reading tracker!
Reading Ahead for You
Reviews and Resources Weekly in Your Inbox