Popular children's author Garth Nix raids a storehouse of fairy-tale elements to roll out this fresh and funny quest tale.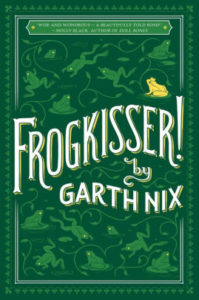 Frogkisser! by Garth Nix.  Scholastic, 2017, 372 pages
Reading Level: Middle Grades, ages 10-12
Recommended for: ages 10-15
Princess Anya wants to be a wizard, and since her older sister Princess Morven is heir to the kingdom, it's not an unreasonable ambition.  But since their evil step-stepfather, Duke Rikard married their stepmother, nothing is simple.  Rikard is a sorcerer, and not the good kind.  Their first clue was when he transformed Denholm, one of Morven's princely suitors, into a frog.  And Denholm might not have been the first.  True love's kiss can change him back, but flighty Morven has already fallen in love with someone else.  Anya discovers a loophole, however: any princess can do the job with the aid of a magical lip balm made from five rare ingredients.  Anya finds herself on a quest to collect the items and kiss the frog, but her mission quickly expands to saving the kingdom and righting wrongs.  Not that she asked for any of this.
Frogkisser! stirs familiar fairy-tale tropes into a kettle—er, cauldron—and serves them up with a smile, not a smirk.  The humor flashes frequently—see for instance Duke Rikard's indictment for "murder, forcible transformation, and improper cackling."  But several noble, time-tested themes get their due as well, such as good vs. evil, the transformative power of love, the redemption of cowards and thieves, and justice tempered with mercy.  Anya makes a winning protagonist, though her personality (typically, in stories like this), is overshadowed by secondary characters.  Ardent, one of the royal dogs, is such a character: a faithful companion who frequently resorts to puppylike excess.
One complaint: the plot is so overrun with PC feminism that stock masculine characters, in particular the good wizard, the valiant knight, and the outlaw chief, are all women.  One or two is fine, but all three?  This is a bit irritating, but overall Frogkisser! is likeable and fun.
Cautions: None
Overall Rating: 3.75 (out of 5)
Worldview/moral value: 3.5
Artistic value: 4.5
More than 75 books for children and teens, all about islands, oceans, and more. Bonus: get a free hand-drawn reading tracker!
Reading Ahead for You
Reviews and Resources Weekly in Your Inbox