Panda-monium offers plenty of hi-jinks, animal facts, and quirky characters as Teddy solves the mystery of the theft of a prized giant panda.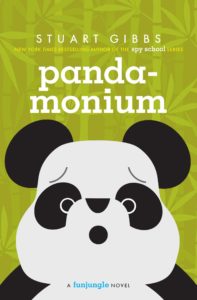 Panda-monium by Stuart Gibbs. (FunJungle #4) Simon & Schuster, 2017. 352 pages.
Reading Level: Middle grades, ages 10-12
Recommended For: Middle grades, ages 8-12, especially lovers of mysteries and animal stories
When Teddy and his girlfriend Summer swim with the dolphins one morning, they have no idea that a major crime is simultaneously being committed–a crime that would affect Summer's dad and his beloved FunJungle zoo theme park. Instead of a new, prized panda arriving at the zoo later that morning, an empty trailer appears, an international incident sparks, and the FBI is called in. Never mind that Teddy has ingeniously solved three prior crimes/mysteries at FunJungle, he is most definitely NOT needed for this crime. Or so the FBI thinks….
Who doesn't love giant pandas? Part of the charm of this light-hearted mystery featuring a contemporary Encyclopedia Brown character is the subtle inclusion of plenty of giant panda factoids. Teddy's low key relationship with his girlfriend Summer (they function more as "best friends" than "boyfriend/girlfriend"), a sub-mystery surrounding dolphins, and plenty of hilarious actions under gird the main mystery. Teddy does the sleuthing largely on his own with the help of Summer and some other park employees, but his parents are there when he needs them. This is book 4 of a mystery series, each book of which is set in FunJungle. If this particular volume is any indication, this is a great series to hand over to middle grades kids who love mysteries and animals, both! It won't spark major dinner table discussions on the mysteries of life, but it provides good clean fun and enough humor and suspense to hook some of those reluctant readers out there.
Cautions: Language (mild; less than 5 instances of minor language plus one "Cripes")
Overall Rating: 3.75
Artistic Rating: 4
Worldview Rating: 3.5
For kids who love mysteries and space, check out Stuart Gibbs' Space Case, a sci-fi mystery for the same age group as the FunJungle books.
Please follow and like us: