By chapters 8-13, we're well into the development part of the novel, which (you may recall) I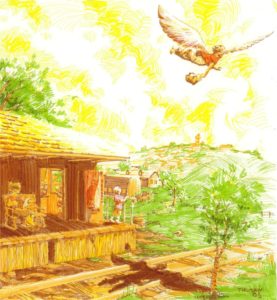 mentioned is the often the most difficult part to write.  Every story has a beginning, middle, and end, and when an author begins a novel, she usually has the beginning part clearly in mind.  The ending may be cloudier, but I never start a novel without some idea where it's going to end up.  How to get there is the problem.  You need to allow time to for readers to know the characters better by seeing how they respond to difficulties.  You also want the reader to like your characters more as time goes on—to become invested in what happens to them.  At the same time you need to move the story along, yet not so fast that we lose sight of plot turns and motivations, and not so slow that we lose interest altogether . . . You see the difficulties.
So, in the second quarter of our saga, our hero is thrown on his own resources when his mentor suddenly departs for unexplained reasons.  Roy Ray has two choices: slide back into his earlier fecklessness, or try to make something of what he's learned.  It's his first great test of character, and he passes.  Part Two also introduces an important secondary character in Delphi McEnroe.  Every hero needs an adversary, but he also needs allies, and with Mr. G out of the picture Delphi comes along at just the right time.  The third big development is getting Roy Ray away from home and into possible danger.  The foreboding is more than realized at the end of Chapter 13.
With the action is moving faster, I had fewer specific questions.  But I'd love to hear from you:
What was the biggest surprise?
What questions are you waiting to have answered?
What are you disappointed about (if anything)?
You won't want to miss a chance at our big giveaway this week: Dragon's Seed, a unique resource that combines dramatic narrative with biblical reflection–and addresses some of the same themes as Bird Boy.
More than 75 books for children and teens, all about islands, oceans, and more. Bonus: get a free hand-drawn reading tracker!
Reading Ahead for You
Reviews and Resources Weekly in Your Inbox