A biracial lad in 18th-century England, suddenly on his own, struggles to make his way and foil the evil machinations of his "betters."
Hell and High Water by Tanya Landman.  Candlewick, 2017, 312 pages
Reading Level: Young Adult, 12-15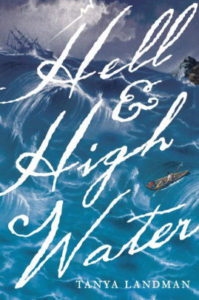 Recommended for: ages 12-18
Caleb Chappell, age 17, doesn't remember his mother, but can't imagine life without his father, an itinerant puppeteer and showman taking his Punch and Judy act to every burgh in southern England.  Pa is also a constant protector and defender, for Caleb is half-African and prey to countless insults.  Their life changes in an instant when Pa is falsely accused of theft, and soon after deported to America.  Caleb's only option is to make his way across country to his only living relative, an aunt he didn't even know he had.  Though Aunt Anne, whose husband is away at sea, welcomes him, her stepdaughter Lettie is another story: suspicious, brash, and challenging.  But the local gentry, Sir Robert Fairweather and his merciless henchman, seem to know something about Caleb, and whatever it is, is not favorable to him or his new family.
This is the rare historical novel that treats history on its own terms, presenting characters who can be sympathetic relatable without spouting current wisdom of progressive attitudes.  Caleb and his Aunt, among others, frequently refer to God and their faith seems genuine, though Lettie swears like a proverbial sailor (what we would today call "mild profanity").  The 18th-century setting is well-drawn and the plot grips from the first page.  My main complaint is that the villains lack nuance—they are bad clear through.  But justice is served, virtues triumphs, and our favorite characters emerge into a new, more promising life.
Cautions: Language (frequent "hells," a few "damns," two instances of the s-word used in its literal meaning)
Overall Rating: 3.75 (out of 5)
Artistic Value: 4
Worldview/moral value: 3.5
Talk amongst yourselves...