A "sea dog" adventure chronicles a key event during the age of explorers: Magellan's epic voyage around the world.
Leo: Dog of the Sea (Dog Chronicles) by Alison Hart.  Peachtree, 2017, 163 pages including historical notes.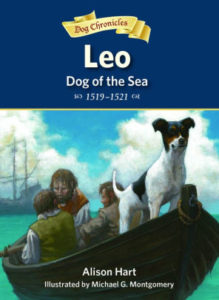 Reading level: Middle grades, ages 8-10
Recommended for: ages 8-12
The dog was homeless and friendless when he first shipped out—and now, on his fourth voyage, he's still friendless.  But his skills as a ratter wins him a berth on the Trinidad, departing Spain in 1519.  If he had known his destination, or anything of the commander, he might have jumped ship while still in Europe.  The captain is the fierce and determined Ferdinand Magellan, who intends to do what no mariner has done before: reach the Spice Islands of (present-day) Indonesia by a passage across the Americas.  In short, to sail around the world!
If you know your explorers, you know the voyage succeeded—after a fashion.  It would be three years before the last remaining ship returned to Spain with a mere handful of the original mariners, and no Magellan, who lost his life battling natives in the Philippines.  We see two years of this odyssey through the dog's perspective, as he gradually loses his distrust of humans (a few of them, anyway) and acquires a name.  The story is simple but fast-paced and the humans he encounters come across as real people.  Especially Magellan—courageous and pious, but chauvinistic and firm to the point of cruelty.  The exciting narrative makes a painless way to introduce 4th-6th graders to the age of exploration.
Other "Dog Chronicles" titles: Darling, Mercy Dog of WWI, Murphy, Gold Rush Dog, and Finder, Coal Mind Dog.   See our review of a book about Magellan for older readers.

Cautions: None
Overall Rating: 3.75 (out of 5)
Worldview/moral value: 3.5
Artistic value: 4
Reading Ahead for You
Reviews and Resources Weekly in Your Inbox