At last count, thirty families and individuals (and a few classes) have signed up to receive daily chapters of my latest in-progress novel.  (If you don't know anything about this and would like to know more, see the Introductory post and the Signup post.)  Today you receive chapter 7, and that brings us a little over one-quarter through the story.  A good place to pause and reflect, and I'm very interested in your reflections.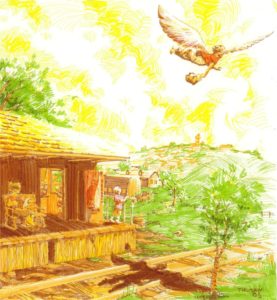 By the time a reader is this far into a novel, all the major characters should be introduced, or at least hinted at.  The setting should be feel lived-in and the central conflict, challenge, or problem is taking shape.
So readers who have kept up have been introduced to Roy Ray Rappaport, his parents, his eccentric aunts, his immediate antagonist (the local bully), and his town.  From the first chapter, they have become familiar with his problem: a pair of full, feathered wings that don't seem to work that well and are always getting in the way.  His early destructive tendencies begin to moderate when he acquires a flight coach and a firm disciplinary hand.  But the coach, Mr. G, has a backstory that he's not willing to entirely share, and the more Roy Ray learns about flight, the more mysteries develop around Mr. G until . . . a significant development in chapter 7, which I shouldn't say anything about here.
Years, ago, while working on an earlier version of this story, I asked a few public school classes to give their opinions.  The major verdict: Too slow.  I needed more excitement in the early chapters.  This makes sense—even though I've read plenty of MG novels that seemed slower at the beginning than mine!  But still.  There's not a lot of slam-bang action in the first chapters because I thought a more development had to be done.  But what do you think?  Are you (and the kids) interested enough to keep reading?
I asked some specific questions in the emails accompanying each chapter, but you don't have to answer any of them.  On the other hand, if you have specific questions of your own, go ahead and ask.  The comments officially close on Monday at midnight, after which I will randomly select the winner of our first giveaway: Marty Machowsky's Wise Up: 10-Minute Family Devotionals in Proverbs, an excellent resource that formed the backbone of our 2017 Summer Reading Challenge.  (Family members may enter comments separately, but all comments from the same family will be considered as one entry.)
Reading Ahead for You
Reviews and Resources Weekly in Your Inbox