This young-reader history of the early days of the American Revolution views events through the experience of 12-year-old Ben Russell.
Ben's Revolution: Benjamin Russell and the Battle of Bunker Hill by Nathaniel Philbrick.  Penguin, 2017, 64 pages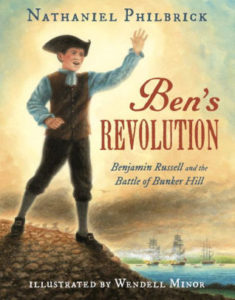 Reading Level: Middle grades, ages 8-10
Recommended for: ages 6-12
Benjamin Russell was 12 when the trouble started—all that fury about the tea tax that led to throwing the tea in Boston Harbor.  Until then he lived a quiet life in the New England town, taking care of the family milk cow and helping out at the print shop of Isaiah Thomas.  His printing job put him at the cutting edge of momentous events from 1774-1776—and sometimes at the front lines.  When the British blockaded Boston, Benjamin and some of his friends were cut off from the city for months.  But Ben had quite a story to tell his parents when he was finally able to return.  The boys put the time to good use by helping deliver supplies to the gathering American troops and their new commander, George Washington.
Telling the story of the opening days of the American Revolution through the eyes of a young teenager makes it relevant.  Today's kids should be able to easily imagine themselves in the same circumstances.  The narrative is terse but filled with human-interest details (like the sledding incident, where Benjamin and his friends ran afoul of British troops).  Full-page illustrations, and some two-page spreads, add a sense of time and place.
Cautions: None
Overall Rating: 3.75 (out of 5)
Worldview/moral value: 3.5
Artistic value: 4
For more picture books about the American Revolution, see our reviews of Gingerbread for Liberty! and The Boston Tea Party.  The Revolutionary War, liberally illustrated by famed historical artist Mort Kunstler, offers a look at the entire sweep of the war for elementary ages.
More than 75 books for children and teens, all about islands, oceans, and more. Bonus: get a free hand-drawn reading tracker!
Reading Ahead for You
Reviews and Resources Weekly in Your Inbox