This funny but thoughtful novel takes Christian faith seriously as a factor in the lives of real people.
*Almost Paradise by Corabel Shofner.  Farrar Strauss Giroux, 2017, 293 pages
Reading Level: Middle grades, 10-12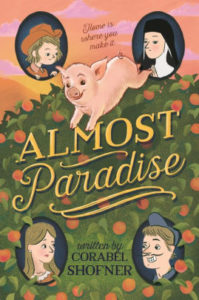 Recommended for: ages 12-up
From the moment Ruby Clyde Henderson woke up in the backseat of a car, she knew something was up.  But, "it still didn't hit me how much we were not home."   Then she put a foot down to get out of the car and stepped into a birthday cake, which was on the floor.  The cake was hers, bought with her own money.  The car belonged to the Catfish, her mother's no-good boyfriend, and Mother was just going along, the way she always did.
Ruby is peeved: nobody has the right to take her out of bed in North Carolina and put her a car headed who-knows-where.  But it isn't until they get to Texas that the bad stuff really hits the fan.  Bad stuff includes a gun and a convenience store, and the cops arresting Ruby's mom, even though she's innocent.  The girl has only one place to go: Paradise Ranch, where her mother's twin sister Eleanor—a woman Ruby didn't even know about until then—lives a quiet life as an Episcopal nun.
I almost passed this one up: yet another story about a spunky southern girl with a colorful turn of phrase who overcomes quirky villains with the help of quirky southern allies.  But Ruby, it turns out, is worth hanging with.  All the above applies, but with a depth and understanding that slips up on the reader as the pages turn.  At first Sister Eleanor is as forbidding as Ruby feared, but once the usual adjustments are made the two find themselves getting along with a certain degree of mutual appreciation.  That's where most novels of this sort would end—however, there's the matter of Ruby's mother in jail, and the matter of the loathsome Catfish, and the matter of the law and how its wheels turn.  Things don't work out as we expect, and yet at the end, when looking back, it seems they worked out the best way possible.
It about faith and healing, and faith in healing—especially in our own power to heal.  As sister Eleanor concludes,
"You know, Ruby Clyde, people argue about the Bible all the time, making it serve their own agendas, but one thing is perfectly clear.  Jesus got up on that cross.  And instead of getting on a cross for others, we run around saying, Jesus died for me, me, me, but that's a bit selfish, don't you think?"
Cautions: Language (some colloquial uses of "Honest to God," one "damn" that's quickly corrected); brief gun violence (no blood); sexual sin implied
Overall rating: 4.75 (out of 5)
Worldview/moral value: 4.75
Artistic value: 5
Every Single Second is another novel for older middle-graders that takes Christian faith seriously while avoiding the label "Christian."
More than 75 books for children and teens, all about islands, oceans, and more. Bonus: get a free hand-drawn reading tracker!
Reading Ahead for You
Reviews and Resources Weekly in Your Inbox