A promising upper-middle grade series gets underway with alternative history, fascinating puzzles, and one big mystery.
The Shadow Cipher (York #1) by Laura Ruby.  HarperCollins, 2017, 476 pages.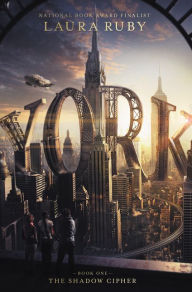 Reading Level: Middle Grades, ages 10-12
Recommended for: ages 10-15
Theodore and Teresa Morningstar made New York the dazzling city it is, with its serpentine Underway, solar-powered streets and windows and mechanized insects that keep the street spotless.  When the twins disappeared in 1855, they left behind a final puzzle, the Old York Cipher: one clue leading to a chain of mystery that would unlock the greatest treasure ever hidden.  The puzzles were never solved and the Cipher is now commonly considered an elaborate trick.  Only the Old Cipher Society takes it seriously—and Tess and Theo Biederman.  Their Grandpa Ben was such a Morningstarr enthusiast he passed on the founder's names to his grandchildren and served as president of the OCS.  Until he had to go into residential care, Grandpa occupied the penthouse apartment of their building, which happens to be one of the five remaining Morningstarr structures.  The Biederman twins' interest in the Cipher becomes relevant when Darnell Slant, an aggressive real-estate developer, buys their apartment house and gives them 30 days to evacuate.  Or everyone assumes it was Slant.  At any rate, the Cipher is no longer a game—it's the only way they can keep their home.  All they have to do is solve all the puzzles and find the treasure.
Mystery runs deep and wide: What happen to the Morningstarr twins?  What connection does Grandpa Ben have with them?  Is this just a treasure hunt?  Grandpa used to say that the Cipher solves you as you solve it—maybe we're actually looking for a deeper secret.  Further volumes will hopefully uncover the depths, but there's plenty going on at the surface—and by the end, Tess, Theo and their friend Jaime Cruz know they're not the only ones looking for a solution.  Have they bitten off more than they can chew?  Has New York City?  Has the world?  Intriguing plot twists, standout characters and striking style make this a series to watch.
Cautions: None
Overall rating: 4.5 (out of 5)
Artistic value: 5
Worldview/moral value: 4
Reading Ahead for You
Reviews and Resources Weekly in Your Inbox