10 True Stories for Teens
It's hard to beat a good, true story. Something about the it really happened aspect just makes it better, don't you think? If your teen (or you!) enjoys strong narratives full of action and plenty to talk about, check out the true stories for teens below, many of which feature the protagonist's faith. If one theme stands out, it's persevering: when the odds are tough, when the road is long, when the way is dark.
Note: We are recommending these for older teens (ages 15 and up) as worthwhile reads with plenty of punch and meaty issues to think over and discuss. We'd encourage you to read alongside your teen(s) and discuss the themes and character development together. Titles linked to amazon (affiliate links–thanks for your support!) and Redeemed Reader reviews, where applicable.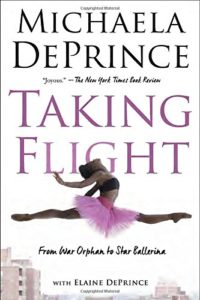 Taking Flight: From War Orphan to Star Ballerina by Michaela dePrince. Ember, 2016 (reprint). In her native Sierra Leone, Michaela dePrince, considered unlucky due to her skin condition, was given to an orphanage by her uncle. Her dreams of becoming a ballerina were kindled there when she found a picture of a famous ballerina. War turned her into a refugee, and she was eventually adopted by an American family who helped her pursue her dreams of ballet. Michaela's hard work and sunny disposition make this a terrific ballerina story. Note: Michaela's early experiences in Africa contain some hard elements.
Every Falling Star: The True Story of How I Survived and Escaped North Korea by Sungju Lee. Abrams, 2016. We've reviewed this book and referenced it in our Beauty and the Beast discussions. Poignant and thought-provoking, this is a good read to discuss as a group, particularly in light of North Korea's continued presence in the news. Do read the review and note the cautions.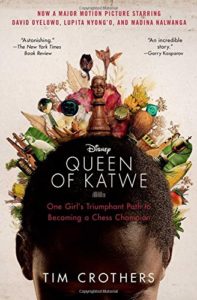 The Queen of Katwe: One Girl's Triumphant Path to Becoming a Chess Champion by Tim Crothers. Scribner, 2016 (reprint). Another title we reviewed and discussed during our Beauty and the Beast event, this is a title to read and discuss with kids interested in chess, contemporary Africa, the impact of sports ministry, or simply a good story of persevering despite the odds. Do read the review and note the cautions.
Seabiscuit: An American Legend by Laura Hillenbrand. Ballentine, 2002. The same author who wrote Unbroken also wrote a terrifically engaging narrative of the famous horse, Seabiscuit, and his faithful jockey Red Pollard. Seabiscuit drew the nation together in a classic underdog story at a time (1938) when the nation dearly needed a positive, feel good hero. Note: a jockey's life is an unsavory one; Hillenbrand mentions prostitution and drinking, but does not glamorize them.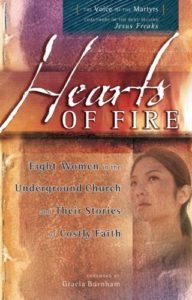 Hearts of Fire: Eight Women in the Underground Church and Their Stories of Costly Faith. Voice of the Martyrs. W. Publishing, 2003. Aside from Sabina Wurmbrand, these women are not likely to be familiar names. Current, contemporary stories of women in various parts of the world bravely standing up for their faith amidst grave persecution. This book is convicting: more urgent prayer, more awareness of our own freedoms, and more thankfulness for the temporal blessings we have. Caution: this is not for the faint of heart, very sensitive readers, or younger teens. Persecuted Christians experience much violence in many parts of the world; Gladys's story, from India, is one of the more gruesome. You might start with Mai's story. Title is linked to Voice of the Martyrs where you can receive a free copy. Alternatively, you may search for the title on amazon if you wish to buy a used copy.
Running For My Life: One Lost Boy's Journey from the Killing Fields of Sudan to the Olympic Games by Lopez Lomong. Thomas Nelson, 2012. A hard read in the beginning, but a rewarding–and hopeful–one about perseverance and passion. We've reviewed this one before, but it's worth reminding folks about. Try pairing this one with Taking Flight (above) or The Queen of Katwe (also above). Alternatively, watch Chariots of Fire and talk about these two Olympians who both ran their Olympic races as Christians.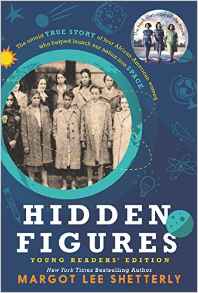 Hidden Figures Young Readers' Edition by Margot Shetterly. HarperCollins, 2016. Better than the movie! Actually, this is a great companion to the movie; it's worth asking teens to compare the book and movie to see what the movie dramatizes differently than the book does. This is a good choice for teens interested in math- and space-related pursuits. See our review for more information.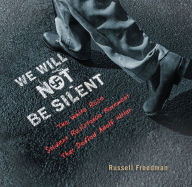 We Will Not Be Silent: The White Rose Student Resistance Movement That Defied Adolf Hitler by Russell Freedman. Clarion, 2016. Another title we've reviewed before, this one works for younger teens as well as serving as a quick read for older teens. A brother and sister had the courage to stand up to Hitler and the Nazis, forming the White Rose Student Resistance Movement. See also The Boys Who Challenged Hitler about another student resistance movement against the Nazis.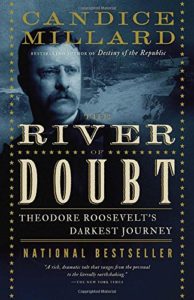 The River of Doubt: Theodore Roosevelt's Darkest Journey by Candice Millard. Broadway, 2006. This is a penetrating look at one of our larger-than-life former presidents and his touching relationships with one of his sons. Mixing plenty of natural history of the Amazon region into her narrative, Millard recounts a journey that only the stoutest explorers could undertake. This is not for the teen who enjoys a quick read, but it is a rewarding adventure for those willing to venture with Roosevelt down the River of Doubt. Disregard the evolutionary language about the amazing Amazonian eco-system and marvel instead at the clear intricacies of Creation.
Jungle Pilot: The Gripping Story of the Life and Witness of Nate Saint, Martyred Missionary to Ecuador by Russell T. Hitt. Discovery House, 1997 (updated edition). Another jungle story, this is an account of the famous martyrdom of the 5 missionary men that included Jim Elliott as well as Nate Saint. Updated version includes an epilogue by Nate's son, Stephen. For those looking for a missionary story, this is a good one!
What are some of YOUR favorite true stories? What have you read with your teens that you'd recommend to our fellow readers?
Younger teens who aren't ready for some of the hard situations in the books above might enjoy Ugly (a memoir by a boy with a severe facial disfigurement), Undefeated by Steve Sheinkin (about football and white/Native American relations), The Boy Who Harnessed the Wind (a young South African boy who becomes an inventor–try comparing this with Queen of Katwe), and Come On, Seabiscuit (more suited to family reading than the title above).
Please follow and like us: