This excellent character-driven adventure saga sheds light on the darkness of North Korea while exploring family and cultural relationships.
In the Shadow of the Sun by Anne Sibley O'Brien.  Scholastic, 2017, 303 pages.
Reading Level: Middle Grades, 10-12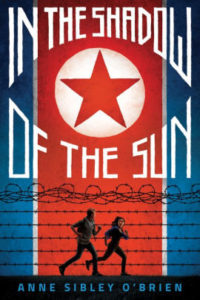 Recommended for: ages 12-up
"Please follow all rules, as the consequences for disobedience can be severe."  That's the warning in the introduction to Mia Andrews' North Korea guidebook.  She's here with her father, who works for an international relief organization, and her brother Simon. Bringing the family along on a business trip seemed like a good idea at the time: a way to broaden the kids' perspective as well as introduce Mia (adopted as an infant from South Korea) to her cultural heritage.  Their mother planned to go also, but since she had to back out at the last minute, Mia is stuck with her 16-year-old brother's rotten attitude.  If Mom were there, lots of things would have turned out differently, starting with the well-wrapped gift presented to Mia's family by a government official.  Though told not to open it, curiosity gets the better of the girl  when she's alone.  The gift is a cell phone loaded with grim pictures of starving Koreans in prison camps.  She brings the phone along on a sightseeing tour to show Simon, but while the kids are covertly swiping through the pictures, their Dad is arrested.  Is there a connection?  Before they know it, the kids are on the run, with a few snacks, a guidebook, and the incriminating phone.  Their only goal is to get to China with the evidence and try to contact the American embassy.
This engrossing adventure holds the reader's interest while shedding light on a nation we know very little about.  The author, who grew up as a missionary kid in South Korea, not only knows her subject but how to make it intelligible to middle-graders (and older).  She cleverly introduces the story with a few pages of "guidebook" giving a brief history of North Korea and the Kim family, a survey of Pyongyang and the countryside, and a list of "What to Do and What not to Do," ending ironically with "Enjoy Your Trip!"  More than adventure and informative fiction, the story is also a study of relationships under pressure, notably Mia and her brother.  Immanent death from exposure, hunger, injury, or hostile capture clarifies priorities for both, and though Christianity is not a factor, issues of character and responsibility are thoughtfully explored.  Brief vignettes of North Koreans encountered along the route provide perspective on the nation—these are individuals making the best lives they can under an oppressive regime.  At first these brief glimpses into other lives seem intrusive, as they break up the narrative, but in the end they round out the picture and give readers (this reader, anyway) a better view of an alien culture.
Cautions: Language (several "hells," a few "damns," a couple of omg's); Violence (not graphic, continually threatened)
Overall Rating: 4.5 (out of 5)
Artistic value: 5
Worldview/moral value: 4
Please follow and like us: