An 11-year-old girl discovers some truths about herself and her family in this novel with a touch of magic and mystery.
Joplin, Wishing by Diane Stanley.  HarperCollins, 2017, 249 pages
Reading Level: Middle Grades, ages 10-12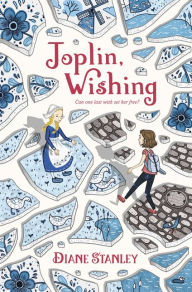 Recommended for: ages 10-14
Joplin's grandfather, Martin J. Camrath, was a reclusive novelist with such a powerful mystique (think J. D. Salinger) that his death rocked the literary world.  Not that it means much to Joplin—she never met the man because her mom (now divorced) never saw and seldom spoke of him.  Unfortunately, Camrath got very weird toward the end, and his weirdness, splashed all over the internet on his demise, made Joplin the butt of stupid pranks at school.  But that's not the worst: the smashed Delftware platter in the cake tin, the only item she claimed from her grandfather's possessions, may turn out to be serious trouble.  The antique dealer her aunt Jen suggested to repair it seems to want it very badly.  And soon Joplin understands why: it harbors a spirit—a girl who actually lived in another time and place—who can grant wishes once the platter is whole.  Like a genie in a lamp, Sophie is a slave to whoever owns the dish.  Is there any way she can be free?
The story goes in directions we don't expect and introduces characters with genuine motives and personalities—even, or especially, the villain.  Tension drops a bit at the end (spoiler: a lawyer saves the day!) but loose ends of the story are tied up nevertheless.  The journey is worthwhile for other reasons than thrills: opening young lives to a sense of wonder, exposing old hurts for healing, and saying good-bye when the time comes.
Also by Diane Stanley: The Chosen Prince
Cautions: Language (two "hells," one "God")
Overall Rating: 4.25 (out of 5)
Worldview/moral value: 4
Artistic value: 4.5
Talk amongst yourselves...