A 7th-grade detective and his feisty sidekick sets up shop in this new mystery series with a distinctive, humorous voice.    
Howard Wallace, P.I. by Casey Lyall.  Sterling, 2017, 249 pages
Reading Level: Middle Grades, ages 8-10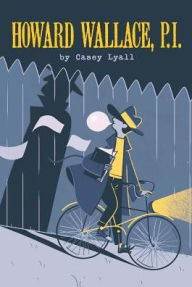 Recommended for: ages 8-14
Howard Wallace has set up shop in an office beside the custodial shed, where he can afford two buckets to sit on—one for him and one for clients.  His latest case is a nasty one: someone is blackmailing Meredith Reddy, student-council treasure of Grantleyville Middle School.  Who would be doing that but Lisa Grantley, heir to the city's founding family, with her own circle of henchmen?  But Howard is savvy enough to know that all may not be as it seems.  He's barely launched on the case when a complication rears its ugly head—well, not ugly, exactly, but pesky.  Ivy Mason, that is, the new girl who flaunts her street cred to insist on becoming a partner in the agency.
Author Lyall exploits the hard-boiled detective style to the max in this mystery series opener:
She didn't knock, just barged through the door like she owned the place.  She did own it, but that was beside the point.  I knew my rights, and privacy was at the top of the list . . . With a hand clamped over her nose, she turned to me.  "Howard, how many times to do I have to ask you to clean your room?"

I told her to scam; a man's room is his castle.

Some mornings I should just keep my mouth shut.
Of course, echoing the Sam-Spade style has been done to the max, even with chickens.  But that won't spoil the fun for a young mystery-lover, and Howard's self-deprecating manner and quirks (such as regarding his bike, Big Blue, as a female personality and substituting a bathrobe for a trench coat) may win new fans to the genre.  Scrappy Ivy can give back as good as she gets, and both partners have their secret hurts to add a touch of pathos.  Readers who get hooked won't have long to wait for Episode #2, Shadow of a Pug, due in September.
Cautions: None
Overall Rating: 4 (out of 5)
Worldview/moral value: 3.5
Artistic value: 4.5
Reading Ahead for You
Reviews and Resources Weekly in Your Inbox