Face Time (Your Identity in a Selfie World by Kristen Hadden.  New Growth Press, 2017, 127 pages.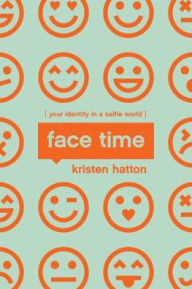 Reading Level: Young Adult, ages 12-15
Recommended for: Ages 12-18
The evidence keeps rolling in: Social medial, which offers everyday folks a wide platform for defining themselves, is leaving more teens feeling outclassed, inferior, and lonely.  Teen depression is on the rise, especially among girls.  That's the situation Christian author and youth leader Kristen Hadden addresses in this discussion guide/Bible study/journal aimed at middle grades through high school.  Part One identifies the problem, traces it back to the source (Did you know Mother Eve had identity issues?) and finds a solution in the gospel of Jesus Christ.  But what, exactly, does this mean for a high school senior who can't get any likes on Facebook or an 8th-graders who was lied about on InstaGram?  And—here's a problem many Christian books don't address—what if Jesus just doesn't seem to be enough?  The author confronts her readers with the problem of idolatry: "the Struggle We Still Face."
Part Two presents real-life scenarios of girls facing contemporary problems: materialism, body image, sex, and sexual identity. Discussion questions and journal space allow personal responses to each story.  With identity becoming such a huge personal and political topic, it's worth addressing head-on: Who am I . . . in Christ?  The book could be a helpful springboard for discussion in a small church group, private study, or mother-daughter duo.
Cautions: None
Overall Rating: 4.5 (out of 5)
Artistic value: 4
Worldview/moral rating: 5
Please follow and like us: