Dragon Seed by Marty Machowsky. New Grorwth Press, 2017, 179 pages.
Reading Level: Middle Grades, ages 10-12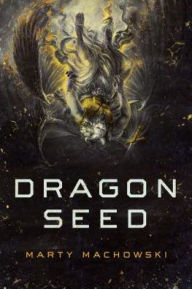 Recommended for: ages 10-14
Nick is furious. He's been furious a lot lately, and one big reason is cancer taking his father. Why did God have to let Dad die? And why does his sister Martha have to be such a goody-goody now? And –especially—why does his mom have to be breathing down his neck all the time? Mary, Nick's mother, is equally frustrated: When did Nick get so hard to handle, and how is she going to make it through his teen years if this is only the start? At this juncture Nick's grandmother suggests, "I think it's time for you to pass on the story." It's a good story—an epic story, even, with dragons and curses and battles. Even better, the story has a direct connection to Nick's own family: a "dragon's seed" passed down through generations, reaching back to times he's read about in the Bible, but never applied to himself.
This is not a novel, but rather a "teaching story" about spiritual warfare. The reader learns, along with Nick, that his main problem is the sin of pride, of wanting to be his own boss and authority. The lesson comes across in a dramatic reimagining of Satan's fall, followed by the ruination of mankind's beautiful garden. But a hero appears in an unlikely place and time. Nick's connection to this hero is the big surprise of this book, to him and the reader. His overt rebellion is checked, though the struggle continues—and his sister Martha, the "good daughter," clearly has her own temptations to pride.
A "Twelve-Day Prescription" follows the story: twelve devotional-length chapters including a scripture, a meditation, and application questions designed to help readers apply Nick's story to their own lives. Martha's story is left unfinished, an interesting choice that allows for projection and discussion. This imaginative approach is ideally suited to the tween years (11-13) when kids are developing a sense of identity.
Cautions: None
Overall rating: 4.5 (out of 5)
Worldview/moral value: 5
Artistic value: 3.5
More than 75 books for children and teens, all about islands, oceans, and more. Bonus: get a free hand-drawn reading tracker!
Reading Ahead for You
Reviews and Resources Weekly in Your Inbox