A light-hearted adventure for middle-graders combines humor and redemption.
The Emperor's Ostrich by Julie Berry.  Roaring Brook, 2017, 274 pages
Reading Level: Middle grades, ages 10-12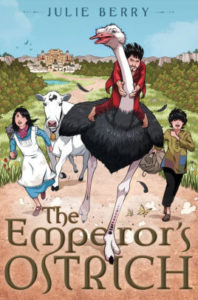 Recommended for: ages 10-14
Something very strange happened the night the emperor disappeared.  He was such a rude, overbearing young twerp no one exactly misses him, but the blood-chilling scream, and the disappearance of a prize ostrich at the same time was disconcerting.  Meanwhile, Begonia is setting out to search for the family's straying milk cow—again.  Why can't her little sister share some of the workload?  Alfalfa (the cow) wanders farther than usual this time, leading the girl on a roundabout route where she encounters Key, a self-styled Finder of Things That Are Lost—among other self-stylings.  With Key, a magic map, and a magic mustard pot, finding a lost cow should be easy.  But complications ensue, such as a haughty, difficult, and disheveled young man riding an ostrich.  In pajamas.  Meanwhile, in the capital city, a plot is brewing . . .
This good-natured fantasy, set in a vaguely Asian kingdom, has something for everyone: strong heroine, chivalrous hero, comic and serious villains, a jerk who sees the light, and lovable animals, bovine and avian. Also two spirits: Ancestors who are part of this world's higher power and the object of its inhabitants' prayers.  Grandfather and Grandmother Spirit have a history and some wise words to share among the banter.  Such as, "Know this, my girl: the things you're doing now, at this marvelous age in your life, aren't going to waste.  All your reliable, responsible choices are building a brain, a heart, and a pair of hands ready to tackle anything life sends your way."  Sturdy themes of responsibility and reformation come wrapped in an appealing, entertaining package.
Cautions: Worldview (characters pray to Ancestors, who visit and correct them)
Overall Rating: 4.5 (out of 5)
Artistic Value: 4
Worldview/moral value: 5
More than 75 books for children and teens, all about islands, oceans, and more. Bonus: get a free hand-drawn reading tracker!
Reading Ahead for You
Reviews and Resources Weekly in Your Inbox