In this winning historical fantasy, a bright lad (fluent in the cat language) chafes at his boring life until an unexpected adventure on the high seas puts his unique gifts to the test.
*The Sign of the Cat by Lynne Jonell.  Henry Holt, 2014, 253 pages
Reading Level: Middle grades, ages 10-12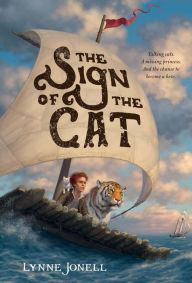 Recommended for: ages 10-up
Duncan McKay shares one rare ability with almost no one: he can speak Cat.  Grizel, the elderly family kitty, taught him that skill long ago and it's not something a human can easily pick up.  But he can't tell anyone.  And he can't show off how bright he is or how good at swordplay or anything that would attract attention, because his mother is afraid of undue attention.  She keeps her own head down and ekes out a living as a piano player, so no one knows she's a virtuoso violinist.  But one day a gleaming personage arrives at their little seacoast town—the Earl of Merrick, famous hero and defender of the King, on a mission to find the lost princess Lydia.  The Earl takes an interest in Duncan and flatters the boy into touring his ship.  The reader will soon guess that Merrick is up to no good, but what is his interest in Duncan?  Or in cats?
There are enough plotty twists in this story to hold a reader's interest, along with appealing characters both human and feline (such as a brave little kitty and a conscientious tiger).  Though Duncan's mother has her reasons for avoiding notice, there comes a time to step out into the world and find one's calling.  As she is told, "You want to keep [your son] safe, my Lady? A ship in harbor is safe, but that's not a ship is made for."  Duncan is made for a mission that will challenge his courage as well as his brain, but most of all his determination to live up to responsibility.  Cat-lovers especially will love it, but be warned that some kitties in the story meet a gruesome end that may disturb younger or more sensitive readers.
Cautions: Violence (toward cats)
Overall rating: 4.5 (out of 5)
Worldview/moral value: 5
Artistic value: 4
More than 75 books for children and teens, all about islands, oceans, and more. Bonus: get a free hand-drawn reading tracker!
Reading Ahead for You
Reviews and Resources Weekly in Your Inbox