Join us for Wisdom & Wonder: our 2017 Summer Reading Challenge focused on Proverbs!
Wisdom & Wonder
We are going to be diving into the book of Proverbs with the help of Marty Machowski's Wise-Up family devotional. In addition, families are encouraged to choose one of the "anchor" books below that best fits their children's ages. We will be discussing these particular books in light of the themes in Proverbs this summer. There will be an additional booklist for each week that includes extra titles that coordinate with that week's theme, but these titles will carry through the whole summer!
For a special discount code to purchase Wise-Up from New Growth Press, sign up for the special Wisdom & Wonder newsletter!
Ages 0-10
Wise Words by Peter Leithart is a delightful collection of literary fables that feature various Proverbs as the morals. Perfect as a read aloud, this also makes a fun independent read if your independent readers happen to sneak the book off to bed with them. Read our Wise Words review for more information. Book may be purchased through amazon (affiliate link below); it may also be in your church library if you have one!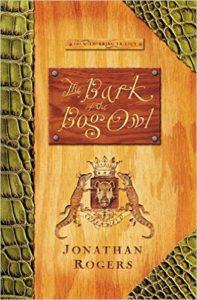 Ages 8-14
The Wilderking Trilogy by Jonathan Rogers is an action-packed, fantasy adventure based on the life of King David. Feechies from the swamp, a shepherd boy, and prophecy come to life in a landscape reminiscent of the American South. These books will work as a read aloud or independent reads! Read our Wilderking reviews for more information. Books may be purchased through amazon (affiliate links below) or from Rabbit Room Press.

Ages 12 and up
We're featuring our own Janie Cheaney and her historical fiction set in Shakespeare's day for the teen selections this year: The Playmaker and The True Prince! Mystery, intrigue, the theater, and plenty of action fill these books that also serve up a side dose of the Bard himself! Note: books are available in kindle format only currently (affiliate links below). For hard copies, check your local library or ABEBooks for used copies. Readers may also purchase hard copies directly from Janie Cheaney for $8 for one book, $13 for both (postage included).  Limited copies available–first come, first served! If you are interested in purchasing a book from Janie, comment below and we'll follow up with you.  Also, she will personalize and autograph books as requested!
We look forward to a terrific summer of reading!
Please follow and like us: