A snarky, totally believable science fiction narrative for teens.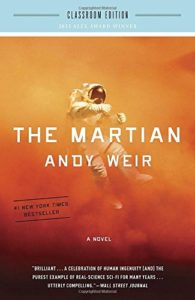 The Martian: Classroom Edition by Andy Weir. Broadway Books, 2016. 400 pages.
Reading Level: Teens, ages 15-18
Recommended For: Teens, ages 15-18
Andy Weir never dreamed his book would be a runaway hit! First published in blog format, then in practically free Kindle format (at the request of his many fans), The Martian became a near instant bestseller and quickly followed in movie format starring Matt Damon. What's the buzz about?
When the book opens, Mark Watney has been stranded on Mars for 6 days. We know this because the book is primarily Mark's journal, measured in Martian "sols" instead of Earth days, as he writes partly to keep himself sane. Thus, the bulk of the story is told through Mark's snarky, relatable voice. Readers know his deepest, darkest secrets by the time the book is over: how he has to use the bathroom on Mars, what he's afraid of, how he ended up being chosen for the Mars mission (not because he was an astronaut!), and more. His voice is one of the strongest draws of the book: we believe him! The story sounds completely plausible, and indeed, Weir spent much time working through the science and technical issues in order to make them as believable as possible. It's hard not to believe that the book actually happened.
The Martian is extremely engaging, hooking readers from the very first line. Even readers who aren't normally drawn to science fiction (like myself) will enjoy this, while readers who avidly read science fiction (like my husband) will also thoroughly enjoy it. The Classroom Edition contains multiple STEM-related questions in the back of the book, a high school teacher's dream text. Mark's character shows courage, resourcefulness, creativity, perseverance, a delightfully self-deprecating sense of humor that nonetheless reveals a healthy self image…. What's not to like? The language. Those who've read the original version of this novel will remember the myriad "F-bombs" and a healthy dose of other vulgar terms coupled with profanity. The Classroom Edition boasts "classroom-friendly language" as one of its selling points. Essentially, the Classroom Edition takes this from an R-rated language experience to a firm PG-13. F-words are replaced with "screwed" and its ilk; s— is replaced with crap. "D—" is left in, as well as the sprinkling of profanity (although they removed G-d phrases and used the more innocuous "wow" and the like). Witney's firmly rational, scientific worldview comes through loud and clear:
I figure if there's a God, He won't mind, considering the situation I'm in. If ruining the only religious icon I have [a Roman Catholic cross] leaves me vulnerable to Marian vampires, I'll have to risk it.
In short, The Martian is a funny, thought-provoking read if you are okay with the language content. While the worldview is not biblical, per se, neither is it anti-biblical in that Mark's character demonstrates tremendous virtues amidst his faults. Admittedly, most of us might be freer with our language and imagery if we were stranded on a planet, without hope of rescue, and assured that no one would read our dark humor as we attempted to stay sane….
Cautions: Language (see third paragraph)
Overall Rating: 3.75
Artistic Rating: 4
Worldview Rating: 3.5
For a related,  nonfiction title, see —

More than 75 books for children and teens, all about islands, oceans, and more. Bonus: get a free hand-drawn reading tracker!
Reading Ahead for You
Reviews and Resources Weekly in Your Inbox