What's a girl to do if she's born with a pig's nose?  If her family has money, that's some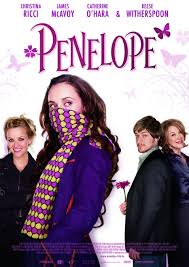 consolation, but Penelope's family is also very socially conscious, especially her mother: this little girl is not one to show off.  And there's also the curse, which goes back for generations and has only one cure: if the piggy girl can find true love with someone of her own kind (i.e., social status), the curse will be broken and her nose will shrink to a normal, and very pretty, size.
That's the setup to Penelope, a PG-rated family film that light-heartedly explores the beauty theme.  The title character has spent her entire life, all 18 years of it, hidden away in her family's mansion, whiling away the time by designing her own clothes and dream room.  But now it's time to go about breaking the curse, which means she has to find a suitable suitor willing to marry her.  Because of her fortune, suitors line up, but one look at her face sends them literally screaming for the exits.  All the lads have signed a strict confidentiality pledge if they turn down the marriage deal, but the last one spills the story of Penelope's hideous face, which no one believes.  To prove his credibility, the young man hires a down-at-heels aristocrat named Max to woo the girl and snap her picture with a hidden camera as soon as she shows herself.
But Penelope is through with suitors and doesn't show herself to Max until he's visited her several times.  As they become acquainted through a two-way mirror, through which Penelope can see Max but not vice versa, no viewer will be surprised that they become fond of each other.  But what will happen when he finally sees her face?
It's not that hideous; after we get used to the pig nose, it's rather cute.  A little more ugliness would have added some weight and raised the dramatic stakes; as it is, the story wanders off into silliness a couple of times while tension sags.  But if you've ever had the challenge of finding a movie everybody will enjoy and no one will take much offense at, Penelope might fill the bill: entertaining, fun to look at, and worth talking about after.  Here are some questions you might talk about:
How does Max get to know Penelope, when he can't see her? How can you tell he likes her?  (Any comparisons to I Peter 1:8?)
Why does he refuse to marry her?  (We don't know at first; the reason is revealed later.)
Which characters seem most like real people?
The "moral" of Penelope is mostly about self-acceptance.  Is this adequate, or does it fall short?
At one point, Penelope tells her mother, "I don't want a whole new me!  I like myself the way I am!"  What happens after that?  Does this development make sense with what she just said?
How is the story of Penelope similar to the story of Beauty and the Beast?  How is it different?
Cautions: Penelope is rated PG for some instances of mild cursing and innuendo; also, Max is a compulsive gambler who drinks too much (but is redeemed by love!)
Redeemed Reader is not affiliated with or endorsing the 2017 Disney live action Beauty and the Beast film. Rather, we are taking this opportunity to examine the traditional fairy tale and its connections to biblical truth and contemporary literature
More than 75 books for children and teens, all about islands, oceans, and more. Bonus: get a free hand-drawn reading tracker!
Reading Ahead for You
Reviews and Resources Weekly in Your Inbox