This is one of the picture book retellings of Beauty and the Beast we are featuring as part of our Beauty and the Beast Adventure. We are exploring the great biblical themes of beauty, beast, love, and redemption as depicted in the traditional fairy tale. Redeemed Reader is not affiliated with or endorsing the new Disney live action movie.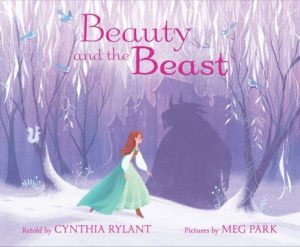 Beauty and the Beast retold by Cynthia Rylant and illustrated by Meg Park. Disney-Hyperion, 2017. 40 pages.
Reading Level: Picture books, ages 0-8
Recommended For: kids ages 0-8 as a library check-out
Cynthia Rylant brings her formidable writing skills to bear in this simple, sweet retelling of Beauty and the Beast. The emphasis in this retelling is on the Beast's great loneliness, Beauty's kind spirit, and their love for one another.
To be unloved is a great misery, and the loneliness of it nearly impossible to bear. This is the story of someone cursed by such a fate. Neither power nor riches could save him. What he needed was Beauty….
In this retelling, the Beast is not turned into a beast because he was prideful; rather, he refused to marry the daughter of a witch, and the witch turned him into a beast in vengeance. This is a notable deviation from the traditional telling because it is the beast's form that helps transform his character in the end! Without that element, the story reads more like a simple fairy tale that is not dramatically different from other fairy tales. Illustrations are sweet and have a vintage feel. The beast isn't particularly frightening looking, and Beauty is more sweet than beautiful in appearance. Recommended as a library check out to compare with other Beauty and the Beast versions, but this is not one every home library needs.
Cautions: none
Overall Rating: 3.5
Worldview Rating: 3.5
Artistic Rating: 3.5
To see our other resources on Beauty and the Beast, be sure to check out the opening post!

Talk amongst yourselves...