This novelized spin-off of the movie doesn't have the same dramatic tension, but stands up well as a story-within-a-story.
Beauty and the Beast: Lost in a Book by Jennifer Donnelly.  Disney/Hyperion,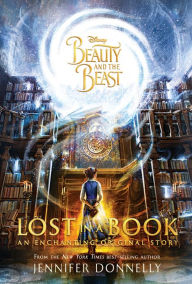 2017, 341 pages.
Reading Level: Middle Grades, ages 10-12
Recommended for: ages 10-15
Belle has been in the Beast's castle long enough to make friend with the animated furniture and dishes, but the Beast himself is the most frustrating individual she's ever met.  Impossible to classify, by turns gentle and fierce, intriguing and intimidating—what's he all about?  Unbeknownst to Belle, two mysterious figures are watching this relationship unfold with great interest, and their names are Love (a dark-skinned lady who dresses in white) and Death (Love's pale, black-garbed sister). They have made a wager: will Belle be the one to break a long-standing spell, or will she finally be repulsed by the Beast's difficult character?  In short, will Love prove stronger than Death?  The grim reaperess, who has been known to cheat, has an enchanted book smuggled into the Beast's library.  It's a volume titled Nevermore, which has the power to pull a reader right into the story once it's opened.  Belle, who spends all her free time in the library, is bound to open it, and once it's open she can't resist walking through.  Within Nevermore, Belle encounters Death herself, disguised as the Comtesse des Terres des Mortes, and a world of beautiful dresses, fascinating people, and exciting opportunities.  But is it real?
This story is neither prequel nor sequel, but a kind of in-betwequel that unfolds an entire separate episode within the B&B story arc.  Movie novelizations began decades ago as obvious commercial grab.  Star Trek and Star Wars, along with less successful movie franchises, spawned dozens of these in cheap paperback form, to be devoured and discarded.  Lately, though, media empires employ respected novelists to spin off plots, as we saw with the latest Star Wars trilogy.   Jennifer Donnelly is well known in the YA world, and Lost in a Book stands up pretty well as a novel in its own right.  Because it unfolds in the middle of a larger story, the author has to make extensive use of the past perfect tense, which wears quickly.  Also, the plot-within-a-plot lacks a certain drive and tension.  While Belle is lingering in Nevermore, I sometimes felt that she was just killing time.  But there's some good stuff here. I rolled my eyes at an early description: "But Belle was not most people.  She questioned everything and was obedient to only one thing—her heart."  Was this going to be more follow-your-heart pabulum?   Not exactly, because Belle's heart leads her down a wrong path.  The Comptesse (a.k.a. Death) also says something interesting in a later conversation: "It's easy to love those who've done right by us, don't you think?  A bit harder to love those who've done us wrong."  She's talking about Maurice vs. the Beast, but unwittingly provides justification for the sacrificial love Belle will both recognize and display (and should remind us of Romans 5:8)  Lost in a Book is clearly geared toward fans, who will gobble it up, but it turns out to be a nice expansion of the B&B universe for anybody.
Cautions: None
Overall rating: 4 (out of 5)
Worldview/moral value: 4
Artistic value: 4
Support our writers and help keep Redeemed Reader ad-free.