Aidan, fifth son of a Lord of Corenwald, befriends Feechies, defeats a giant, and leads a loyal group of followers in this middle grades fantasy retelling of the biblical story of King David.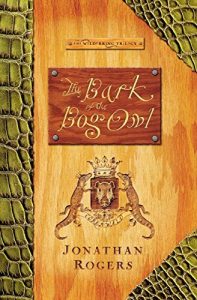 *The Bark of the Bog Owl by Jonathan Rogers. Rabbit Room, 2014; second edition. 248 pages.
*The Secret of the Swamp King by Jonathan Rogers. Rabbit Room, 2014; reprint. 214 pages.
*The Way of the Wilderking by Jonathan Rogers. Rabbit Room, 2014. 212 pages.
Reading Level: Ages 10-12
Recommended For: Ages 8 and up, especially boys
As the Wilderking Trilogy opens, Aidan, fifth son of Errol, is tending his father's sheep and practicing his slingshot skills. He befriends one of the Feechiefolk, the wild folks who live in the trees and swamps of Corenwald, and kills a panther in defense of his new friend, Dobro Turtlebane. Meanwhile, Bayard, the prophet, has been at Errol's house on a mission to pronounce the Wilderking of prophecy. Hint: it's not one of Errol's other four sons. When Aidan arrives back at the house, Bayard pronounces him the future Wilderking–to everyone's shock. And he tells Aidan to "live the life that unfolds before him." Readers who are familiar with the biblical David will not be surprised that the first event that propels Aidan's name to fame is his defeat of a giant in battle with his sling shot.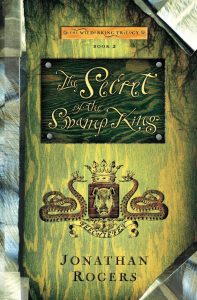 The second book in the trilogy follows Aidan to Feechifen, a swamp that will remind Southern readers of the alligator-infested swamps in Florida and southern Georgia. Aidan is trying to prove his loyalty to a jealous King Darrow by going on a dangerous mission. Aidan bears the mark of a Feechie friend, however, and he is allowed passage through the swamp. He uncovers the Wilderking pretender, finds the frog orchid for which he was sent, and returns only to find King Darrow angrier than ever. In the final book of the trilogy, Aidan is on the run from King Darrow even while he protests his undying loyalty to the crown and Corenwald itself.
The Wilderking trilogy is a terrific re-imagining of David's story in fantasy/adventure format. Rather than acting as "biblical fiction," in which the author tries to imagine what actual biblical characters were thinking and feeling, this series simply uses key plot details from David's story as a framework for a new fantasy adventure. Rogers creates a very American and Southern fantasy landscape that is quite different from the usual Tolkien-esque style. Swamps, bugs, and alligators populate this world. The three books are admirably short and direct, refreshing in a sea of hefty fantasy tomes. Perfect for readers who aren't into epic fantasy with all the magic, wizards, and made up creatures, the Wilderking books work well for kids who enjoy an action-driven plot, strong characters, and a tangible world that feels very much like our own (even the "Feechiefolk" are people–in fact, they will remind readers of Southern rednecks or hillbillies at times!). Aidan's father is one of the best father figures in fantasy literature, and Aidan's own "rough and ready" style is appealing in an age that is bent on feminizing the world. Rogers' Christian worldview comes through clearly as Aidan and his family honor God and his anointed king above all else. Elements of other Biblical stories shine through, too (such as the Prodigal Son), but Rogers stops short of being "cheesy" or preachy. Instead, there are terrific quotable passages, strong themes of courage and fulfilling your calling, and the often hilarious Feechiefolk with their rudeswaps and wrasslin.' Note for families who do not read books with magic: there is no magic in this series.
Cautions: none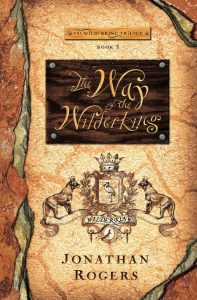 Overall Rating: 5
Worldview Rating: 5
Artistic Rating: 4.75
Jonathan Rogers is no stranger to Redeemed Reader. See our review of The Charlatan's Boy for another book about the Feechie. Read some of Rogers's thoughts on Flannery O'Connor or our interview with Rogers about Writing, Boys, and being a Dad.
*indicates a starred review
More than 75 books for children and teens, all about islands, oceans, and more. Bonus: get a free hand-drawn reading tracker!
Reading Ahead for You
Reviews and Resources Weekly in Your Inbox