An actual slave ledger from 1828 inspires this group portrait of eleven African Americans who remain free to dream.
Freedom over Me: Eleven Slaves, Their Lives and Dreams Brought to Life by Ashley Bryan.  Atheneum, 2016, 56 pages.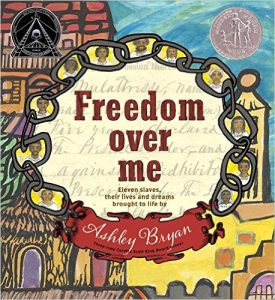 Reading Level: Picture book, ages 8-10
Recommended for: ages 8-14
In July of 1828, Mary Fairchilds, the widow of Cado Fairchilds, put her property up for sale.  All we know for sure of this transaction is a July 5 appraisal made of the estate: a herd of cattle, bales of ginned cotton, one bay mare, and eleven people: four women, two men, two girls and a boy.  All that's known about them are their names and their appraised value, from $100 to $250, but author-illustrator Ashley Bryan has taken these bare bones and put flesh on them.  After a brief statement by Mrs. Fairchild of her intention to sell them and move back to England, each individual has his or her say, all in free verse: a page given to the life, work and history, and another page given to their dreams, which can't be bought or sold.  As Athelia the maid says, "As slaves/ we do what our owners expect and demand of us./ As human beings,/ our real lives/ are our precious secret."
It's a stunning concept, and the illustrations are equally stunning.  The dreams, however, may owe a bit more to contemporary romanticism than actual history.  Bryan imagines over half of these people coming directly from Africa.  It's possible some of them did, but the African slave trade was banned in 1809.  Smuggling continued, but by 1828, most of the slaves in the United States were second, third, or fourth generation Africans.  Those imagined by Bryan "remember our African cultures, our traditions, our craftsmanship.  Within us lives this knowledge, this undefeated pride." There is no mention of the Christianity that many slaves embraced as a source of hope, solace, and self-worth as children of God.  While one or two of Mrs. Fairchilds's "people" may have clung to a remembered African heritage, it was not likely for the average enslaved black American in the early 19th century.
Note: Freedom over Me was a big winner at the ALA Youth Media Awards this year: winner of the Coretta Scott King medal for text and illustration, plus a Newbery honor book.
Cautions: Worldview
Overall Rating: 3.75 (out of 5)
Worldview/moral value: 3.0
Artistic Value: 4.5
Talk amongst yourselves...