Rapid Fire: a quick, "rapid fire" list of mini-book reviews.
Janie and I love to prognosticate the Newbery Award, discuss possible contenders, and dialogue during the announcement itself! But the ALA announces many more awards than the Newbery or Caldecott. Enjoy this "rapid fire" list of short reviews of some of the other award-winning (picture) books announced in January; all are geared to ages 4-8.
*all award descriptions taken from the ALA website
Schneider Family Book Award
for books that embody an artistic expression of the disability experience: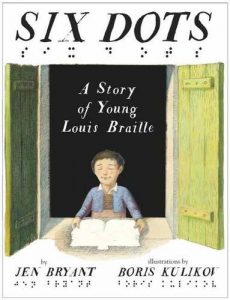 Six Dots: A Stry of Young Louis Braille by Jen Bryant and illustrated by Boris Kulikov. (Winner for young children.) Bryant builds on her earlier young adult biography of Louis Braille by trying to imagine what Braille's childhood might have been like. Kulikov's illustrations are a helpful complement to the text making this a solid picture book biography. See also Bryant's other picture book biographies: Splash of Red and The Right Word.
Theodor Seuss Geisel Award
for the most distinguished beginning reader book: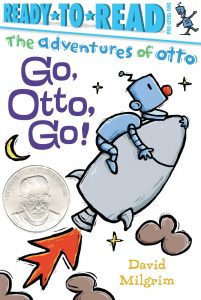 Go, Otto, Go! by David Pilgrim. (honor) Charming, playful illustrations add much to the meaning of this simple, easy reader text geared for brand new readers. Young robot fans will delight in reading this book aloud.
Good Night Owl by Greg Pizzoli.  (honor)  In a humorous romp reminiscent of Arnold Lobel's owl stories, Owl tries to find the source of the noise he hears once he's in bed. Young readers who are moving beyond sight words will enjoy locating the source of the noise on each page. Definitely recommended! See also Number One Sam.
Robert F. Sibert Informational Book Award
for most distinguished informational book for children: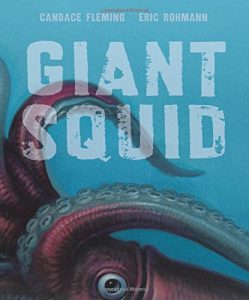 Giant Squid by Candace Fleming and illustrated by Eric Rohmann. (honor) A lyrical and startlingly illustrated glimpse at the strange giant squid. Content might be a touch scary for very young children, but this book is highly recommended for ages 5 and up!
Pura Belpré Awards 
honoring a Latino writer and illustrator whose children's books best portray, affirm and celebrate the Latino cultural experience:  [two honors for one illustrator!]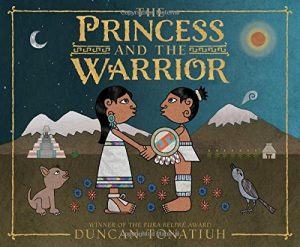 The Princess and the Warrior by Duncan Tonatiuh. (Illustrator honor) Distinctive, stylized illustrations reminiscent of ancient Mixtec art enliven this legend of two volcanoes that sit on what was once Tenochitlan, the famous Aztec city. Worth adding to a study of mythology.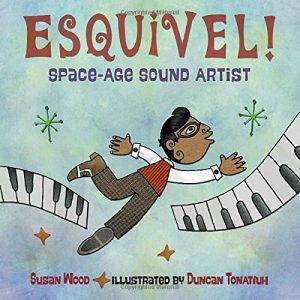 Esquivel! Space-Age Sound Artist by Susan Wood and illustrated by Duncan Tonatiuh. (Illustrator honor) This lively picture book biography about a Mexican musician who ended up in New York is full of sound effects and bright colors. A slightly longer text means this is a good fit for the 8-10 age group as well as 4-8.
Coretta Scott King (Illustrator) Book Award 
recognizing an African-American author and illustrator of outstanding books for children and young adults: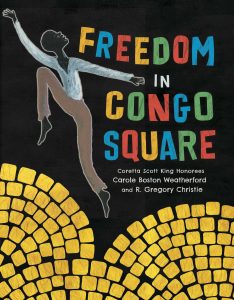 Freedom in Congo Square by Carole Boston Weatherford and illustrated by R. Gregory Christie (Illustrator honor) We've already reviewed this wonderful book.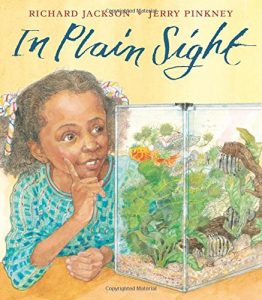 In Plain Sight by Richard Jackson and illustrated by Jerry Pinkney. (Illustrator honor) A charming game between grandfather and granddaughter draws the young reader in: can you find the objects hidden in plain sight? Recommended!
Randolph Caldecott Medal 
for the most distinguished American picture book for children:
Freedom In Congo Square by Carole Boston Weatherford and illustrated by R. Gregory Christie (honor). Again!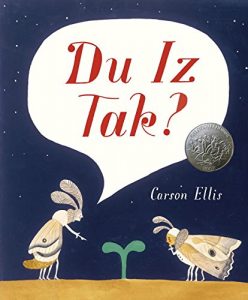 Du Iz Tak? by Carson Ellis. (honor) What if we could hear insects talking? This clever book imagines just such a possibility with completely made up words. Young readers will enjoy trying to decode the language, but they will marvel even more at the illustrations that depict the passing of the seasons, the circle of life, and an intricate storyline. Highly recommended!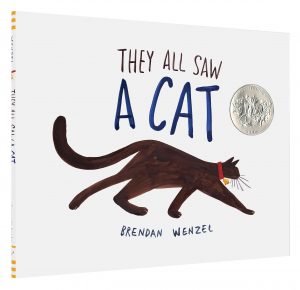 They All Saw a Cat by Brendan Wenzel (honor). This is a fascinating peek into worldview… OR an imaginative look at all the different ways various creatures "see" a cat as it walks throughout its day. Creative and full of discussion potential with all ages.
Have you seen any of these? Which is your favorite?
Talk amongst yourselves...