This thoughtful novel about growth, change, and community sensitively explores a girl's relationship to her Italian-American family and Catholic faith.
Every Single Second by Tricia Springstubb.  Balzer & Bray, 2016, 359 pages
Reading Level: Middle grade, ages 10-12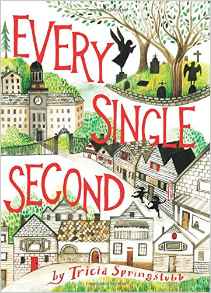 Recommended for: ages 12-up (with cautions)
"It was terrible how fast things could change.  One second to the next.  Like God flipped a coin.  Only of course He didn't.  He had a plan."
What is God's plan?  And how are we supposed to know?  And how do we respond when things change so terribly fast, and sometimes just terribly?  At twelve, Nella Santini is already dealing with regular changes, like her mother popping out another baby brother and her great-grandma getting more difficult and her old best friend (quiet, secretive Angela) giving way to a new best friend (quirky, science-obsessed Clem).  Nella is only beginning to realize that she is changing too: "When you were little you never thought about what to do next.  Your life just kept happening.  But by the time you were ten, life grew these pauses.  These spaces, where you looked around.  Unsure."  This year will hurl her out of her tight-knit little-Italy neighborhood into the wider world.  It begins with news that her parochial school, St. Amphibalus, is closing—now she'll have to attend a public school, unless she can get into the science magnet Clem has applied for.  But then everything spins out of control when Angela's brother fatally shoots an innocent black man, throwing two communities into an uproar.
Middle-grade kids are trying to make sense of the world, whether they realize it or not.  Nella begins to make sense by looking into her own history, in alternating chapters.  As events and memories come at her thick and fast, her guiding star becomes Sister Rosa, a beloved teacher.  Sister Rosa has no hang-ups or secret resentments: she is what she appears, a heart given over to God for his purposes.  This is one of those rare novels where you don't just see a character changing—you feel it  A certain amount of profanity (a classmate's Oh my god's and Mr. Santini's characteristic for the love of God) may raise Third Commandment concerns, also one exclamation of Christ! by a walk-on character and a couple of kisses between Nella and the boy she's coming to think very highly of.  An atmosphere of sadness gathers toward the end as unfortunate circumstances pile up, but the hope that scatters those clouds is a real hope with a real source.  Cautions aside, this is the kind of story that actually broadens experience by reading it.
Cautions: Language (profanity of the OMG sort), Sensuality (two kisses)
Overall rating: 4.5 (out of 5)
Worldview/moral value: 4.5
Artistic value: 5
Support our writers and help keep Redeemed Reader ad-free.